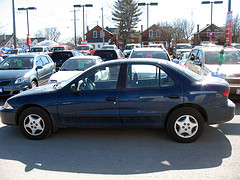 Buying from a secondary source is how some people who own used motor vehicles save money on needed parts and accessories nationwide
Atlanta, GA (PRWEB) March 29, 2015
The state of Georgia is now one area of the country where a growing number of junk yards and second hand parts retailers are supplying components to consumers. The GetYourPart.com company is now featuring auto salvage yards in Georgia to help consumers find statewide companies to buy preowned parts for sale at http://getyourpart.com/auto-salvage-yards-in-georgia.
The available providers of foreign or domestic car parts that are now included in the public search tool for consumers to use this year are spread out across the 159 counties in Georgia. Due to the large volume of companies, each company has been reviewed and validated prior to inclusion in the search portal to make sure inventory is accurate and shippable.
"Buying from a secondary source is how some people who own used motor vehicles save money on needed parts and accessories nationwide," said a GetYourPart.com source.
The salvage yards in Georgia that are currently a part of the statewide search database do sell components seven days a week. Because some yards close up shop on the weekends, a better selection of companies that fulfill orders every day of the week can now be explored, compared and reviewed using the helpful location system available.
"We're now featuring more Southern companies that have the ability to ship parts for a cheaper price and to offer a reduce point of sale price for vehicle owners," said the source.
The Get Your Part company has expanded into different areas of the U.S. to provide a useful way to seek out trusted companies that retail second hand vehicle components online. The company plans to add more yards in surrounding states near Georgia in 2015 to further enhance the search experience for consumers.
About GetYourPart.com
The GetYourPart.com company supplies access to nationwide distributors of used vehicle components on the web. The company has now added more junk dealers to its listings for the public to explore daily. The GetYourPart.com company provides updates to its open system to present more accurate research options to car owners, mechanics or other components purchasers in the USA.