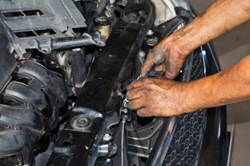 One disadvantage that owners of cars encounter while performing research is a fluctuation between components pricing for older or discontinued vehicle brands
Kansas City, MO (PRWEB) March 19, 2015
Consumers who are unhappy with paying retail prices for motor vehicle parts will now have easier access to buy cheaper components from Missouri companies online. The Car Parts Locator company is now connecting the public with auto salvage yards in KC that are searchable online for used auto parts at http://www.carpartslocator.com/auto-salvage-yards-in-kc.
There are now more than 100 salvage companies in Jackson County that can be researched while using the locator tool now available on the CPL homepage. Both Small and large Kansas City yards are now represented in the automated vehicle parts tool on the web that is now activated for consumer or commercial buyers to use.
"One disadvantage that owners of cars encounter while performing research is a fluctuation between components pricing for older or discontinued vehicle brands," one Car Parts Locator rep said.
The auto wrecking yards that are also supplying components to Missouri residents through the CarPartsLocator.com company have helped to increase the makes and models available. Since insurance companies can declare a vehicle as a salvage loss, there are now more resources used to obtain components for sale.
"The locally owned yards that are part of our search network in KC this year are providing the parts, warranties and sale pricing that consumers review through our system," the rep added.
Because consumers can have a need for specific automaker parts, The Car Parts Locator website now includes a direct search for used OEM components. A Ford parts portal is now searchable at http://www.carpartslocator.com/ford-auto-parts-for-sale to help display available inventory and sale prices.
About CarPartsLocator.com
The CarPartsLocator.com company supports instant research for aftermarket and preowned vehicle components for every make and model vehicle in the U.S. The company has installed its revised database in 2015 that now includes foreign auto parts distributors. The CarPartsLocator.com company uses its complete network of companies to showcase better pricing and faster deliveries to consumers or trade industry buyers of vehicle parts.