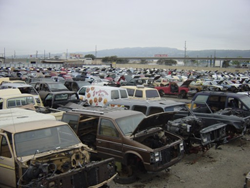 When a person uses our research tool, he or she is presented with current stock information and the selling price attached to each component
Miami, FL (PRWEB) May 26, 2015
New arrangements with automotive distributors in the Midwest this year has created more opportunities for the LocateCarParts.com company to sell more components to consumers on the web. The company is now announcing its inclusion of Missouri auto salvage yards to its mixture of suppliers now searchable online at http://locatecarparts.com/missouri-auto-salvage-yards.
The second hand inventory from companies in the Show Me State is now available to explore through the revised database of parts sellers on the LCP website. Because some part types cannot be located through some established component sellers, consumers can now review the offerings of the MO scrap yard network.
"When a person uses our research tool, he or she is presented with current stock information and the selling price attached to each component," said one LocateCarParts.com source.
The automotive junk yards research system first built at the LCP company in 2013 has been changed this year to include providers in specific geographical regions of the U.S. Missouri is now one of the areas of the country where regular consumers can instantly view the sellable inventory of yards in 114 state counties.
"Selling junk parts is one of our business models, and we've already negotiated the list prices that consumers can review in our system," said the source.
The LocateCarParts.com company now displays the yards search finder on every website page to improve the speed and accuracy of its system. Consumers who have questions about parts not displayed in the finder can submit an immediate inquiry through the revised interface this year.
About LocateCarParts.com
The LocateCarParts.com company provides a trusted and secure method of finding used vehicle parts that are discounted in price on the Internet. The company is now promoting its database of thousands of suppliers that can be selected to order inventory. The LocateCarParts.com company supplies a trained staff to handle support requests from consumers who purchase from its web portal.