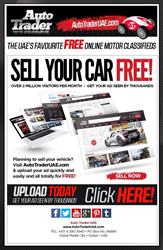 Private sellers and trade dealers advertising their cars know that great photos are a real advantage. Our readers agree that this is what makes Auto Trader stand out from the rest
Dubai, UAE (PRWEB) June 12, 2015
Founders of the Auto Trader UAE, one of the largest and best vehicle websites in the Gulf region, are proud to announce their free online ad posting option. For those who wish to sell used cars in Dubai, they may do so through the complimentary ad by following the straightforward online process.
In order to place a free ad for their cars, people simply need to navigate to the website, http://www.autotraderuae.com/, and click on Place Your Ad. After creating an account with the website, visitors may post their Dubai cars ads at no charge.
As the founders of Auto Trader UAE understand, it can be challenging to sell used cars. They point out that placing a "For Sale" sign in a vehicle's window limits the number of people that will see it, and traditional classified ads can be expensive. This inspired them to allow posting ads on their website at no cost; once the ad is on the user-friendly site, it will be seen by literally thousands of people.
In addition, complimentary ads are also useful for those who want to buy a used car in the Gulf region; they can visit the site and browse through the huge variety of new and used cars that are currently for sale.
"Auto Trader is packed full of new and used cars, news, articles, accessories and classifieds," a spokesperson for Auto Trader UAE said. "Private sellers and trade dealers advertising their cars know that great photos are a real advantage. Our readers agree that this is what makes Auto Trader stand out from the rest."
Anybody who would like to learn more about Auto Trader UAE is welcome to visit the easy-to-navigate website; there, they can browse through the available cars as well as explore many other great features the site has to offer.
About Auto Trader UAE:
Auto Trader Magazine was established in Dubai in 1999. Today, over 10 years later, it has grown from a 36-page magazine, to over 450 pages per issue. Auto Trader Magazine is now the largest circulated and retailed automotive magazine in the UAE. AutoTraderUAE is also the biggest and best vehicle website in the Gulf for new and used cars. Visitors to the site can browse the listings, or create a specific search to help them find the right car. The website's classifieds are refreshed hourly and are all accompanied by great images. For more information, please visit http://www.autotraderuae.com/