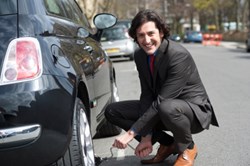 The most common reasons that providers limit coverage is due to high mileage or the age of a vehicle
Evansville, Indiana (PRWEB) September 24, 2013
Comparing costs for automobile insurance and warranty programs can be an exhaustive situation for car owners. The Auto Pros company is helping owners of vehicles to find cheaper rates for these services online. The car repair warranty providers cost comparison tool now available at http://www.autoprosusa.com/auto-warranty is now empowering drivers to compare companies easily.
The majority of warranty providers place restrictions on the coverage of certain auto parts. Engines, transmissions, undercarriage parts and electronic modules can be limited in coverage amounts or excluded form coverage though some companies.
The partner companies that are now accessible for prices online offer complete protection policies for all repairs.
"The most common reasons that providers limit coverage is due to high mileage or the age of a vehicle," said a warranty plan reviewer at the Auto Pros USA company.
Consumers now accessing the warranty provider data submit basic vehicle information to begin the foundation of quote generation. Simple contact information is requested although not required to use the database.
Entry of a phone number or email address now provides consumers with instant contact with companies if a plan is purchased after quote review.
"The programmed database linking drivers with warranty plans is removing the need to speak by phone or await special offers by mail to review the pricing of one company compared with other providers," the warranty plan reviewer added.
Direct access to the plans for warranties is in addition to the separate databases that have been announced for consumers this year. Auto parts databases were added early in 2013 and an insurance policy finder was included in August of this year.
This insurance finder is similar in functionality to the warranty tool and can be accessed by visiting http://www.autoprosusa.com/insurance.
About AutoProsUSA.com
The AutoProsUSA.com company now provides consumers with access to reviews and information about top products and the services that are accessible online. This company has changed its services policy in 2013 and now provides referral information for automotive warranty and insurance information to thousands of vehicle owners daily. The AutoProsUSA.com company website features simple to use databases and access to hundreds of different pages that are resourceful ways that auto owners can use to make better purchasing decisions. This company offers its toll-free number to consumers for instant offline contact.