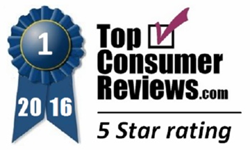 CARCHEX is a one-stop shop for anyone looking for an auto loan... (they) easily earn our highest rating for Auto Loans in 2016.
Overland Park, KS (PRWEB) September 06, 2016
TopConsumerReviews.com recently gave a best-in-class 5 star rating to CARCHEX, a leader among online providers of Auto Loans.
In the past, getting the best terms for an auto loan was a time-consuming process. Borrowers were usually limited to offers made by local banks or lending institutions. Especially for those with less-than-perfect credit, it was often difficult, even impossible, to find a loan with reasonable interest rates. For today's borrower, however, the internet makes it simple to quickly find attractive car loan interest rates from a number of lenders, compare their loan terms, and ultimately find the auto loan that best meets one's needs.
"CARCHEX is a one-stop shop for anyone looking for an auto loan," according to Brian Dolezal of TopConsumerReviews.com, LLC. "Their website allows customers to enter a few key pieces of information, such as the car's year, make, and model, along with their contact information and employment status, and CARCHEX takes care of the rest. Their lending partners actually compete for customer's business, making it easier than ever to get the best possible rates and terms on an auto loan. Not only does CARCHEX maintain an A+ rating with the Better Business Bureau, but they've also been endorsed by big names in the industry such as Pat Goss and Kelley Blue Book. CARCHEX easily earns our highest rating for Auto Loans in 2016."
To find out more about CARCHEX and other online providers of Auto Loans, including reviews and comparison ratings, please visit the Auto Loans category of TopConsumerReviews.com at http://www.topconsumerreviews.com/auto-loans/.
About CARCHEX
Headquartered in Hunt Valley, MD, CARCHEX is the trusted resource for professional automotive services for consumers and dealers. Consumers can use the CARCHEX Advantage system to Select, Inspect, Purchase and Protect their next car online. An innovator in pre-purchase vehicle inspection programs, the CARCHEX system provides consumers the confidence to buy their next car online.
About TopConsumerReviews.com
TopConsumerReviews.com, LLC is a leading provider of independent reviews and rankings of hundreds of consumer products and services. From Auto Loans to Travel Insurance and Personal Loans, TopConsumerReviews.com delivers in-depth product evaluations in order to make purchasing decisions easier.