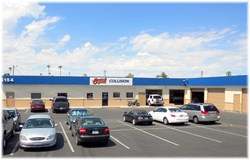 Quality repairs and excellent customer service is our goal and this certification really shows what we're about.
Phoenix, AZ (PRWEB) October 01, 2013
The Assured Performance Network "APN" launched a program to distinguish quality auto body repair shops able to perform exceptional work under Chrysler and General Motors specifications. Capitol Collision Repair has been distinguished by APN as one of a select few Phoenix body shops to be "Certified Collision Care Providers."
The program that was created by APN ensures that dealers and independent collision repair centers meet the necessary qualifications of a repair. The main goal is to recognize shops that are able to provide not only safe repairs to complex vehicle designs, but an exceptional experience for the customers. Liz Stein, executive director of APN stated, "Consumers want to be able to pick a certified shop that will repair their vehicle right the first time." The certification aims to avoid re-inspection and repair verification. This is so that body shops, such as Capitol Collision Repair, have the repairs done correctly, encompassing a proper fit and finish to the vehicles repaired.
Capitol Collision Repair, having gone through training and various inspections is qualified to perform top-notch repairs while taking care of their customers. Owner Dan Deary says, "Quality repairs and excellent customer service is our goal and this certification really shows what we're about." In order to remain certified through APN, Capitol Collision Repair has to:
•Have a written lifetime warranty supported by the National Network
•Attain I-CAR Gold Class Professional shop status
•Use squeeze type resistance spot- welding equipment, which duplicates the original assembly process
•Utilize structural straightening equipment with three-dimensional measurements
The use of advanced equipment and expert customer service has proven to be enough for this Phoenix body shop to become the best of the best.
APN's goal is to certify at least 2,500 collision repair organizations across the United States. All of these shops will have the distinction to ensure the durability, safety and finish of any and every repair. For shops interested in beginning the certification process or interested in more information, visit assuredperformance.net.
About Capitol Collision Repair
Founded in 1988, Capitol Collision Repair is one of the largest independent auto body shops in Phoenix AZ. An A+ rated BBB Company, Capitol Collision Repair provides high quality, guaranteed repairs and is one the highest rated and reviewed Phoenix body shops. They offer I-CAR trained technicians are ASE certified and state of the art equipment and are approved by all the major insurance companies. Rental vehicles and free loaner cars are offered by Capitol Collision Repair.
Free estimates are available by calling (602) 253-1630 to make an appointment.
5154 N 27th Avenue
Phoenix, AZ 85017
Phone: (602) 253-1630
Email: info(at)capitolcollision(dot)net
Fax: (602) 253-6158
http://www.capitolcollision.net
Hours of Operation
Monday – Friday: 8:00 AM – 5:00 PM