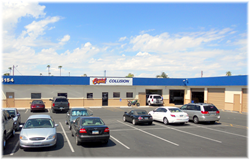 We want to make improvements and move forward, not end up going backwards. We have long term team members and losing them was not an option.
Phoenix AZ (PRWEB) March 11, 2014
After 26 years in business one would think that this Phoenix auto body shop could go into cruise control as far as change and growth in the business, but that is the furthest thing from the mind of Capitol Collision Repair owner Dan Deary. Recently, Deary and the team at Capitol Collision Repair went 100% headfirst into the lean process after a complete buy in from the entire Capitol team.
"Transforming into lean processing was something that needed to be done to not only maintain our growth, but to be a leader in the Phoenix body shop market," owner Deary stated. He went on to say "that the entire organization buy in was necessary before the decision was made. We have many long term, quality people in our organization and the very last thing I was going to do was force change upon them, without a 100% buy in."
The team at Capitol Collision researched and chose a lean process used by one of the more successful shops that they visited and spent time with. The shop underwent many changes to accommodate the lean process change. A new management system was added, giving the Capitol team the ability to track their productivity in real time via monitors throughout the auto body repair shop production and paint areas. The manner in which vehicles are processed was updated to enhance tracking and completion times. Signs were posted throughout the shop, detailing updated procedures and labeling key areas. Most importantly was team building, the shop came together as a team and created the common goal to be the best body shop in Phoenix.
Capitol Collision Repair owner Dan Deary had heard all the horror stories of other auto body shops failures after the implementation of a lean process, which in some instances resulted in the majority of company personnel quitting. Deary vowed not to make the same mistake. "We want to make improvements and move forward, not end up going backwards. We have long term team members and losing them was not an option."
When adopting the lean process the biggest question was "how do we cut down the amount of time it takes to complete repairs, while still maintaining a quality product?" The solution was as old as auto manufacturing itself, the concept of the assembly line was the answer. Making full use of the 18,000 square foot Phoenix body shop, Capitol Collision Repair was reconfigured to make the repair process a one direction assembly line, starting from damage discovery and ending at a complete wash and detail.
Using an assembly line process wasn't the only answer though. The rest was in the damage discovery process. The first, and most important step, is to completely discover all of the damage upfront and to devise a repair plan to ensure timely completion of all repairs without the need to drag out due dates from undiscovered damage. This not only makes repair times faster, but it also allows technicians to complete more work, with no stress, and zero defects.
In the collision repair industry there is an overabundance of body shops, and as the automotive industry changes, it's the shops that lean out their process that will stand out in the industry. Using a lean process, Capitol Collision Repair is now able to get customers out of a rental and back into their own car sooner than the competition, giving them an edge in the highly competitive Phoenix body shop market.
Although leaning out the repair process and shortening repair times has made Capitol Collision Repair a better shop, they aren't done making changes. With the automotive industry continuing to evolve, Capitol Collision Repair will continue searching for new ways to make the shop better as they move forward.
About Capitol Collision Repair
Founded in 1988, Capitol Collision Repair is one of the largest independent auto body shops in Phoenix AZ. An A+ rated BBB Company, Capitol Collision Repair provides high quality, guaranteed repairs and is one the highest rated and reviewed Phoenix body shops. They offer I-CAR trained technicians are ASE certified and state of the art equipment and are approved by all the major insurance companies. Rental vehicles and free loaner cars are offered by Capitol Collision Repair.
Free estimates are available by calling (602) 253-1630 to make an appointment.
Capitol Collision Repair
5154 N 27th Ave
Phoenix, AZ 85017
Phone: (602) 253-1630
Fax: (602) 253-6158
http://www.capitolcollision.net
Email: info(at)capitolcollision(dot)net
Hours of Operation
Monday – Friday: 8:00 AM – 5:00 PM