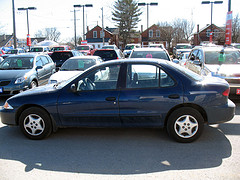 A gearbox for a sedan, coupe or hybrid automobile is usually smaller although can include some mechanical and electrical components inside
Chicago, IL (PRWEB) April 21, 2015
Smaller gearboxes that are found in Ford, Chevy, Honda and Toyota sedan vehicles are now available for purchase when using the PreownedTransmissions.com website. There are now automatic car transmissions for sale that are offered in used condition to the public at http://preownedtransmissions.com/automatic-car-transmissions.
The units that are now available at a discount price are meant to fill the gaps in the used parts industry. Since many second hand suppliers sell truck or SUV components, a person can have some level of difficulty when buying a used car transmission. The assemblies that are now offered for purchase do include four-speed, five-speed and six-speed automatic versions.
"A gearbox for a sedan, coupe or hybrid automobile is usually smaller although can include some mechanical and electrical components inside," said one PreownedTransmissions.com rep.
The use of CVT gearboxes is now becoming a standard in some luxury vehicles that are retailed in the United States. Chrysler, Toyota, Subaru and Ford now feature constantly variable transmissions that function like a combination of automatic and manual units. The PreownedTransmissions.com inventory also includes the CVT builds from select automakers.
"The assemblies that we now carry and that are shipped nationally include standard and overdrive models that fit into most brands of motor vehicles," said the rep.
The Preowned Transmissions company is continuing its offline support for customer service through its toll-free number at 1-866-320-1182 in the U.S. Consumers who are not using the web to explore the shippable inventory this year can now call this number to inquire about VIN compatibility or direct sale pricing.
About PreownedTransmissions.com
The PreownedTransmissions.com company supplies automotive gearboxes that are in used condition that are offered for resale to the public. The company portal features access to acquired inventory from wholesale sources in the U.S. The PreownedTransmissions.com company offers its own support by telephone and by e-mail contact to any user of its website who takes interest in buying second hand transmissions.