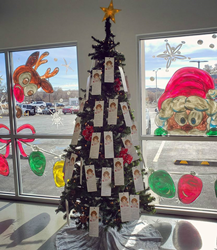 FARMINGTON, N.M. (PRWEB) December 09, 2019
AutoMax Truck and Car Center, a used car dealership in Farmington that has a much-deserved reputation for providing excellent customer service, has a heartwarming initiative this holiday season with its Angel Tree.
The Angel Tree is a cherished annual tradition at AutoMax Truck and Car Center during the holiday season. When a customer buys a vehicle from the dealership between December 2nd–14th, they can pick an angel off the Angel Tree. The angel represents a gift that will be purchased for a child. It will be given on the customer's behalf as a way of saying thank you for buying from AutoMax.
Many people in the Farmington-area will enjoy Christmas with presents from family and friends. However, due to economic hardship, some children and families are not as fortunate. When customers buy from AutoMax Truck and Car Center, they will help address this issue. They can pick an angel off the tree and then bring a smile to a child's face this Christmas when they receive a gift on their behalf. It's a great outcome for everyone, for customers can enjoy a high-quality car from AutoMax, while bringing happiness to a child.
AutoMax Truck and Car Center has an excellent selection of high-quality and affordably priced used vehicles. The dealership offers vehicles from many different automotive brands, including Ford, GMC, Honda, Hyundai, Jeep, Kia, Lincoln, Mazda, Mitsubishi, Nissan, Ram, Toyota, Volkswagen, BMW, Buick, Cadillac, Chevrolet, Chrysler and Dodge.
For more information about the vehicles and services at AutoMax Truck and Car Center, Farmington-area car shoppers can visit the dealership's website at http://www.4automax.com.
AutoMax Truck and Car Center is located at 5220 East Main Street in Farmington. The dealership can be reached via telephone at (505) 436-3938.