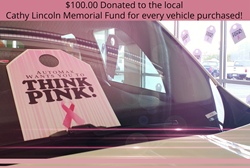 FARMINGTON, N.M. (PRWEB) October 08, 2019
October is breast cancer awareness month and businesses, like AutoMax Truck and Car Center, look for ways to support cancer patients. For the entire month, AutoMax Truck and Car Center will donate $100 for every vehicle sold to San Juan Medical Foundation, a foundation that supports health care costs for cancer patients.
Drivers who are currently looking for a used vehicle are encouraged to buy one at AutoMax this month to support the San Juan Medical Foundation. AutoMax displays a complete inventory of its used vehicles on its website, 4automax.com. Along with information on the vehicle's mileage, Carfax history, year, make, and model, drivers can find other useful tools on its website, like a form for selling a trade-in vehicle and another form to apply for financial approval.
The money from each vehicle sold will go to the Cathy Lincoln Memorial Fund, just one of the funds run by the San Juan Medical Foundation. This fund provides money to women who are being treated for cancer in San Juan County. The assistance is available for costs related to cancer treatment including travel, diagnostic tests, and medication.
Potential customers who would like to learn more about the San Juan Medical Foundation can do so at the foundation's web site, sanjuanmedicalfoundation.com. To learn more about purchasing a used vehicle at AutoMax Truck and Car Center, customers can contact the dealership at (855) 301-8633.