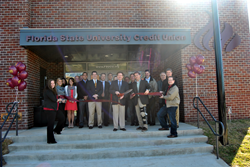 We are excited to have a presence back on campus, in the heart of FSU, the community we have been serving for 60 years.
Tallahassee, FL (PRWEB) February 24, 2014
Florida State University Credit Union is excited to announce the opening of their new branch, located at 834-1 W. St. Augustine St. in Tallahassee, FL. To celebrate the opening, the credit union held a ribbon cutting ceremony on Friday. Feb. 14.
This is FSU Credit Union's seventh location in the Big Bend Area (five branches in Leon County, one in Wakulla County and one in Taylor County, FL). Management and board members decided to close the old campus branch effective Sept. 1, 2012 and completely remodel the entire site. The branch reopened on Jan. 21, 2014.
The new campus branch is located within walking distance of FSU's College Town and is open from 9 a.m. – 5 p.m. Monday through Friday. The branch is being led by branch supervisor Brandi Skipper, an employee of FSUCU for nearly seven years. FSUCU Campus Branch is full-service with a face-to-face teller line, loan officers, member service representatives and a walk-up ATM and night-deposit.
In addition, FSUCU is building a new branch on Thomasville Road North which will open in the spring of 2015. They have vacated their existing branch on Thomasville Road (3534-B Thomasville Road) effective Feb. 14, 2014 and will be temporarily located at 6265 Old Water Oak Road, Suite 103, Tallahassee, FL 32312 until the new facility is ready to open.
Complete details about the new FSUCU branch can be found online at http://www.fsucu.org.
Florida State University Credit Union participates in the Credit Union Shared Branching Program which allows members to conduct transactions at more than 5,000 credit union locations nationwide, for free, just as they would in any FSUCU branch location. More details are available at http://www.co-opsharedbranch.org/.
About the company:
Florida State University Credit Union, the official credit union of FSU athletics, offers a full range of financial services, including personal and business banking needs. Florida State University Credit Union's mission is to "maximize members' financial well-being" and their board, management team and staff consistently strive to offer competitive products and excellent service to those consumers choosing an innovative alternative to conventional banking. Florida State University Credit Union continues to operate as a not-for-profit, member-owned financial cooperative with locations in Leon, Taylor and Wakulla counties in addition to 5,000+ shared service locations nationwide.
Membership is open to Florida State University fans, family and friends to include students, faculty, alumni and individuals living or working in Leon, Gadsden, Taylor or Wakulla County. FSUCU provides traditional business accounts and checking accounts. They also offer their members the ability to apply for Visa credit cards, automobile loans and home equity loans. Visit Florida State University Credit Union website at http://www.fsucu.org to learn more.