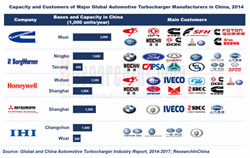 China's automotive turbochargers are expected to speed up by registering a CAGR of 12.2% to 6.34 million units by 2017.
Dallas, TX (PRWEB) April 09, 2015
A turbocharger is actually an air compressor that increases air inflow by compressing air to reduce fuel consumption and exhaust emission and to improve output power. It is mainly used inside the engines of automobiles, engineering machinery, agricultural machinery, ships, and airplanes.
The biggest turbocharger demand in China was none other than auto industry. In 2013, 4.004 million units of automotive turbochargers were sold, accounting for 59.6% of China's turbocharger sales. Driven by policies of energy conservation and emission reduction, vehicle exhaust emission upgrade, etc., China's automotive turbochargers are expected to speed up by registering a CAGR of 12.2% to 6.34 million units by 2017.
Major Global Turbocharger Manufacturers: Honeywell, BorgWarner, Cummins, IHI & MHI.
Major Chinese Turbocharger Manufacturers: Hunan Tyen Machinery Co., Ltd. (600698), Kangyue Technology Co., Ltd. (300391), Wuxi Weifu High-technology Co., Ltd.(000581), Weifang Movgoo Energy Saving Technology Co., Ltd., FuYuan Turbochargers Co., Ltd., Zhejiang Rongfa Motor Engine Co., Ltd.,
Hunan Rugidove Turbocharging Systems Co., Ltd., Okiya Group Co., Ltd., & Shanghai Mitsubishi Turbocharger Co., Ltd. (SMTC).
Place a direct purchase order of this report at http://www.rnrmarketresearch.com/contacts/purchase?rname=349167 .
At present, China's automotive turbochargers are mainly applied to diesel engines, with the installation rate hitting some 71.9% in 2013.
The global auto turbocharger market is mainly monopolized by the foreign giants such as Honeywell, Borgwarner, Cummins, MHI, and IHI, which occupy a combined market share of more than 80%. Being bullish on the outlook of China's automotive turbochargers, foreign giants have expanded their capacity in China by setting up factories, with market share by farstaying above 60%.
In September 2014, Honeywell, one of the world's major turbocharger suppliers, opened its new plant in Wuhan, so that it increased an additional turbocharger capacity of 1.5 million units/a. In the future, with the business expansion, the second and third phases of the project will be initiated step by step.
Global and China Automotive Turbocharger Industry Report, 2014-2017 complied mainly deals with the following:

Market size, regional structure, competitive landscape, etc. of global turbochargers.
Market size, demand structure, automaker layout, price, etc. of China's turbochargers, especially automotive turbochargers.
Demand for diesel and gasoline engine turbochargers in China.
Operation, turbocharger business, development in China, etc. of 5 global turbocharger manufactures.
Operation, development strategy, etc. of 9 Chinese turbocharger manufactures.
The trend prediction of China's turbochargers, especially automotive turbochargers for the next 3 years.
Over the same period, the famous light-duty vehicle turbocharger manufacturer Borgwarner put its second turbocharger plant in China—BorgWarner Auto Spare Parts (Jiangsu) Co., Ltd. into operation, with an extra capacity of 400,000 turbochargers/a. In the future, the company will continue to expand capacity. It is projected that by 2018 Taicang plant will achieve a capacity of 2 million units/a.
In November 2014, Cummins Turbo Technologies subsidiary of Cummins put into operation the first phase of its second plant. In this way, the subsidiary's total capacity reached 2 million units/a. The construction of the second phase is expected to start in 2020, when the company's total capacity will rise to 3 million units/a.
In addition, the major Chinese automotive turbocharger manufacturers e,g. Hunan Tyen Machinery, Kangyue Technology, Wuxi Weifu High-technology have also stepped up financing and capacity expansion, aggressively expanding gasoline engine turbocharger market, in an attempt to improve their competitiveness.
As the largest Chinese turbocharger manufacturer, Hunan Tyen Machinery has an annual capacity of 700,000 turbochargers, of which, gasoline engine turbocharger capacity has reached 100,000 units/a and that of the projects under construction totaled 200,000 units/a (going into operation in 2016). Currently, the company has achieved small-batch delivery to Mianyang Xinchen Engine to Chang'an and Great Wall in the second half of 2015.
Kangyue Technology major turbocharger manufacturer in China, embarked on turbocharger expansion project in 2014. Once reaching design capacity, it will see an additional capacity of 300,000 units/a. In March 2015, the company announced to construct gasoline engine turbocharger R&D and key components manufacturing technology upgrading project. It is to be put into operation in 2018, when the company will have an additional capacity of 300,000 units/a gasoline engine turbocharger assembly.
Contact sales(at)rnrmarketresearch(dot)com for further information.
About Us:
RnRMarketResearch.com (http://www.rnrmarketresearch.com/) is an online database of market research reports offers in-depth analysis of over 5000 market segments. The library has syndicated reports by leading market research publishers across the globe and also offer customized market research reports for multiple industries.