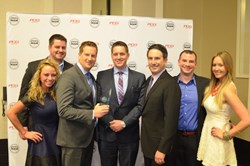 We have many more great things planned in the coming year.
(PRWEB) February 04, 2014
Dealer Inspire has just won a 2014 AWA (Automotive Website Award) for its Pinnacle Platform in the Websites category. Out of 50 eligible platforms, only four were recognized with the Pinnacle Award. This is the first AWA win for Dealer Inspire, an automotive website platform based in Chicago. Though relatively new among automotive website platforms, Dealer Inspire has received consistently positive reviews from clients and is currently expanding their coverage of the market—including recently becoming the exclusive automotive platform of the Chicago Tribune.
The 2014 Automotive Website Awards were hosted Friday, January 24 at the Hyatt Regency New Orleans and honored a wide range of automotive marketing companies in multiple categories, including Websites, CRM Platforms, Mobile Apps, Social Media, Call Training and Tracking, and more. PCG Consulting, which hosts the awards, notes that winners in the Websites category "are recognized for providing websites that have numerous integrated tools, are easily optimized, are easy to customize, and that are adaptable to the latest digital marketing musts."
The Dealer Inspire platform was awarded this year's AWA recognition for its forward-thinking responsive design, innovative True ROI Dashboard, and seamless integration with Dataium, Lead Scoring, and Schema.org. With the tools and analytics provided by Dealer Inspire, automotive dealerships can exercise more control over their digital strategies while monitoring their ROI with greater accuracy. This enables dealers to adapt their online marketing efforts to make the best possible use of their advertising dollars.
Joe Chura, CEO of Dealer Inspire, said of the award, "We are very proud of this recognition for the Dealer Inspire platform, and we look forward to being back at the Automotive Website Awards in 2015. We have many more great things planned in the coming year."
For more information about the Dealer Inspire platform and the True ROI dashboard, interested auto dealers can schedule a demo online.