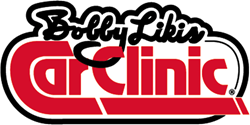 Escort is delighted to partner with Bobby Likis in the Father's Day giveaway. What better way to honor Dad than to tell his story. - Ron Gividen, Escort
(PRWEB) June 19, 2014
Bobby Likis, automotive expert and host of car-talk show "Bobby Likis Car Clinic," announced Glenn Miller from Chicago, IL as the winner of the "Car Story with Dad" contest on the Car Clinic live globalcast on Saturday, June 14. Miller won a Passport MAX high-definition radar/laser detector, courtesy of Escort, Inc.
"Car Story with Dad" invited participants to share their favorite car story about their fathers. During the weeks prior to Father's Day, Likis hand-selected some of his favorite stories to spotlight on the live Car Clinic globalcast and to share on Facebook, Twitter, Google+, Pinterest, and Tumblr.
Miller's story was one of thousands entered into the Father's Day contest. His, however, was bittersweet. His father recently passed away from non-Hodgkin's lymphoma. Miller is passionate about his father's legend living on through him and reflects, "If it weren't for my dad who showed me the ropes about cars and taking care of them, I wouldn't have the love affair today that I have with an automobile." Likis agrees and credits his own father for igniting his passion for cars.
Remarks Ron Gividen, Escort's Public Relations and Media Director, "We are delighted to partner with Bobby Likis in the Father's Day giveaway." He adds, "What better way to honor Dad than to tell his story, and Escort is pleased to offer a gift that keeps giving back. Like other highly prized tools, a really good radar detector, like the new Passport Max, will keep Mr. Miller informed so that he can drive safer and drive smarter every time he gets in his car!"
The PASSPORT Max is the first radar detector with HD radar performance and is compatible with Escort Live, Escort's social networking for the road. Equipped with unique Escort features like AutoLearn and the DEFENDER Database, the PASSPORT Max delivers quicker response time, greater sensitivity and more accurate signal recognition. The Passport MAX also features high-speed, digital-signal processing which removes RF interference and identifies radar threats other detectors won't see.
About Bobby Likis Car Clinic and the Car Clinic Network:
"Bobby Likis Car Clinic" is the largest car-talk program/network on commercial radio, multiple web audiocasts, live video streaming webcast, podcasts (including iTunes), iPhone, chat room, YouTube, Facebook, Twitter, American Forces Radio Network & television. Car Clinic can be heard and seen in high-definition video on Saturdays, 10a-12n ET, live at WatchBobbyLive.com, on Facebook.com/BobbyLikis and on YouTube.com/BobbyLikis. Host Bobby Likis is the only car-talk host on commercial multi-media platforms named for five consecutive years to the "Talkers 250," the prestigious list of the top 250 talk-show hosts in America.
About ESCORT Inc.:
ESCORT Inc. is the leading manufacturer of high-performance radar and laser detectors and other consumer electronics products including the patented ESCORT Live™ real-time ticket protection network, ESCORT MobileTV™, Guardian Alert reverse obstacle detection systems, Entourage GPS-enabled navigation and tracking products, ESCORT QuickStart™ and other Drive Smarter products. ESCORT manufactures products under the ESCORT, PASSPORT, Max, REDLINE, SOLO, STi Stealth, Vector and BELTRONICS brands. The company is headquartered in West Chester, Ohio, with its principal manufacturing facility located in Mississauga, Ontario, Canada.