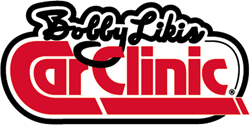 Ron is most knowledgeable about radar/laser detectors in every aspect and welcomes every question with such zeal. - Bobby Likis
(PRWEB) December 11, 2014
Bobby Likis, automotive expert and host of nationally syndicated car-talk program "Bobby Likis Car Clinic," welcomes Ron Gividen, Public Relations/Media Director for ESCORT Inc., to the Car Clinic studio this Saturday, December 13, from 10a-12n ET.
During the live co-host event, Likis and Gividen will take calls from all across the country regarding numerous radar detector related topics including radar enforcement, radar detector use and ultimately tips on how to "drive smarter." Gividen will also be on hand to announce the winner of an ESCORT Passport Max, one of the prizes in Car Clinic's "Fall Into Free Fuel" sweepstakes. As a bonus, Ron will also give away a brand new Passport Max2 which delivers breakthrough radar performance. The Passport Max2 provides ultimate range and accuracy and enables worry-free driving.
Likis reflects, "Ron is most knowledgeable about radar/laser detectors in every aspect and welcomes every question with such zeal." He smiles and adds, "The only 'problem' with the two of us taking calls from Car Clinic audiences is who's going to talk first...Ron or I!"
All drivers are invited to tune in to the live globalcast from the Car Clinic studio at WatchBobbyLive.com. The toll-free hot-line, 888-Car-Clinic (888-227-2546), opens at 10a ET and closes at 12n ET. Likis is also taking questions in advance on Twitter and Facebook.
About Bobby Likis Car Clinic and the Car Clinic Network:
Bobby Likis Car Clinic is the largest car-talk program/network on commercial radio, multiple web audiocasts, live video streaming webcast, podcasts (including iTunes), iPhone, chat room, YouTube, Facebook, Twitter, American Forces Radio Network & television. Car Clinic can be heard and seen in high-definition video on Saturdays, 10a-12n ET, live at WatchBobbyLive.com, on Facebook.com/BobbyLikis and on YouTube.com/BobbyLikis. Host Bobby Likis is the only car-talk host on commercial multi-media platforms named for five consecutive years to the "Talkers 250," the prestigious list of the top 250 talk-show hosts in America. Likis also owns and operates a 15000sf automotive service center, whose awards include "Best Automotive Service Shop," "Best Oil Change," and most recently, "Best Reputation in Automotive Service."
About ESCORT Inc.:
ESCORT Inc. is the leading manufacturer of high-performance radar and laser detectors and other consumer electronics products including the patented ESCORT Live™ real-time ticket protection network, ESCORT MobileTV™, Guardian Alert reverse obstacle detection systems, Entourage GPS-enabled navigation and tracking products, ESCORT QuickStart™ and other Drive Smarter products. ESCORT manufactures products under the ESCORT, PASSPORT, Max, REDLINE, SOLO, STi Stealth, Vector and BELTRONICS brands. The company is headquartered in West Chester, Ohio, with its principal manufacturing facility located in Mississauga, Ontario, Canada.