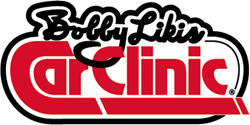 It really is a race that requires precision driving to win. There's $150,000 up for grabs, so it's a serious event, but everyone has a great time. - Carini
(PRWEB) June 26, 2014
Bobby Likis, host of nationally syndicated car-talk program, "Bobby Likis Car Clinic," will join Great Race director, Jeff Strumb, as participants cross the final finish line at Lake Sumter Landing of The Villages, FL at 3:00pm ET on Sunday, June 29, where the nine-day, 2,100 mile race will end.
Last Saturday on the live Car Clinic globalcast, Velocity TV's "Chasing Classic Cars" host Wayne Carini called in from the starting line festivities in Downtown Ogunquit, Maine where hundreds of classic cars were anxiously lined up. To hear Carini's call, drive to Bobby Likis interviews.
Carini says, "It really is a race that requires precision driving to win. There's $150,000 up for grabs, so it's a serious event, but everyone has a great time."
Now in its 31st year, the Great Race is an annual antique, vintage, and collector car race across ten states that had its inaugural event in 1983 by co-founders Tom McRae and Cutis Graf. The two joined 69 contestants at Knott's Berry Farms, just outside of Los Angeles, revved their engines and set off for the racing Mecca of Indianapolis, Indiana.
The race is a competitive, controlled-speed endurance road rally held on public highways. The rules state that all participants must operate pre-World War II automobiles during the race. Therefore, it is not a test of top speed, rather a test of a driver/navigator team's ability to follow precise course instructions and the car's ability to endure on a cross-country trip.
Tune in live every Saturday from 10a-12n ET at http://www.WatchBobbyLive.com or http://www.YouTube.com/BobbyLikis.
About Bobby Likis Car Clinic and the Car Clinic Network:
"Bobby Likis Car Clinic" is the largest car-talk program/network on commercial radio, multiple web audiocasts, live video streaming webcast, podcasts (including iTunes), iPhone, chat room, YouTube, Facebook, Twitter, American Forces Radio Network & television. Car Clinic can be heard and seen in high-definition video on Saturdays, 10a-12n ET, live at WatchBobbyLive.com, on Facebook.com/BobbyLikis and on YouTube.com/BobbyLikis. Host Bobby Likis is the only car-talk host on commercial multi-media platforms named for five consecutive years to the "Talkers 250," the prestigious list of the top 250 talk-show hosts in America.