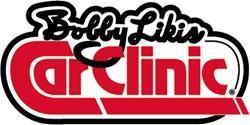 The sweep of guests on Car Clinic is amazing. Automaker trend setters, mobile electronics guru, transportation expert, consumer spokesmen, automotive magazine editor, and safety advocates delivered powerful, usable information to Car Clinic audiences.
(PRWEB) December 06, 2013
Bobby Likis, host of nationally syndicated car-talk program "Bobby Likis Car Clinic", shared the mic with a dozen of the automotive industry's top executives and experts in November. These credible and knowledgeable industry guests shared trends and developments with Car Clinic audiences so that listeners, viewers, fans, and followers can use this information to enhance their daily driving experiences.
Likis comments, "The sweep of November's guests on Car Clinic is amazing. Automaker trend setters, mobile electronics guru, transportation expert, consumer spokesmen, automotive magazine editor, and safety advocates delivered powerful, usable information to Car Clinic listeners and viewers."
To dive into the world of automotive infotainment, visit Bobby Likis interviews.
In November, Likis interviewed:

Dave and Jamey Power, Founder of J.D. Power and Associates and Managing Director of Power Family Enterprises- The legendary Dave Power and son Jamey talked about the value of the consumer voice and shared with listeners the secret of how they put the "power" in J.D. Power and Associates.
Chris Perry, Vice-President of Marketing for Chevrolet- Perry talked about revealing the all new mid-size Colorado at the 2014 Auto Show Season Kick-Off in L.A. and explained the "3 truck strategy".
Jean Jennings, President and Editor in Chief of Automobile Magazine- Jennings entertained Likis and listeners as she gave her detailed description of 2014's "Automobile of the Year": the Chevrolet Corvette Stingray.
Samantha Nevels, Coordinator of Policy Communications for the Consumer Electronics Association- Nevels introduced listeners to the benefits of attending National Car Tech Demo Days and discussed various tech products available for the car, as well as how to make using them while driving safer.
James Bell, Head of Consumer Affairs for General Motors- Bell shared tips on when and how consumers can score the best deals, and some creative ways to save for a new car purchase.
Jeff Curry, Vice-President of Jaguar Brand North America- Curry talked about the big reveal of the brand new Jaguar F-TYPE Coupé at the L.A. Auto Show and gave listeners the inside scoop on the car.
Anita Burke, Chief Engineer of the Chevrolet Colorado- Burke shared her favorite features of the all-new 2015 Chevrolet Colorado mid-size truck that Chevrolet recently revealed at the L.A. Auto Show.
Rich Dwyer, Manager of K&N's Warranty Department- Dwyer returned to Car Clinic for a special segment called "The K&N Consumer Corner" to answer frequently asked questions about Mass Air Flow Sensors.
Jan Withers, National President of Mothers Against Drunk Driving (MADD)- Withers released the results of a new national survey about teen drinking and what those results mean.
Pete Rahn, Transportation expert on HNTB Corporation's "National Transportation Practice"- Rahn announced the findings of a recently released study on the state of America's roadways and how much it is costing the average driver.
Todd Brown, Marketing Manager for Cadillac Escalade- As the 2015 Cadillac Escalade made its debut in Miami at the South Florida International Auto Show, Brown joined Car Clinic to give listeners the details of the new model such as interior refinement, technology and safety features.
Scheduled interviews include:
Jeff Lagges, President of ALLDATA
Chris Hoffman, Product and Marketing Manager for Stant Corporation
Brian Noble, Marketing Manager for SYLVANIA Automotive Lighting
Tune in live every Saturday from 10a-12n ET at http://www.WatchBobbyLive.com.
About Bobby Likis:
Bobby Likis is the only car-talk host on commercial radio named to the "Talkers 250," the list of the top 250 talk-show hosts in America for 5 consecutive years. Likis also owns and operates an award-winning automotive service facility. For more information about automotive expert Bobby Likis and the Car Clinic Network, drive to CarClinicNetwork.com.
About Car Clinic Network:
Car Clinic Network is the most extensive car-talk network on commercial radio, including terrestrial broadcast, CarClinicNetwork.com (audiocast live and libraried, streaming videocast, interactive chat), podcast on assorted outlets (including iTunes and iPhone), live on Facebook.com/BobbyLikis, globalcast on multiple Internet stations, and CelleCast (on all cell phones, regardless of brand or service provider). "Bobby Likis Car Clinic" also enjoys reach via Social Media, including Facebook, Twitter and YouTube. Car Clinic's Network is one without geographical confines, and automotive consumers everywhere can watch Bobby live from his studio every Saturday during "Bobby Likis Car Clinic" on WatchBobbyLive.com.