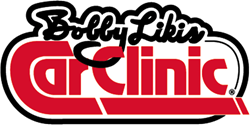 Recently, I've had the pleasure of speaking with a variety of impressive industry insiders dealing with an array of automotive topics, from a run-down on your vehicle's AC system to the exciting festivities taking place at the Great Race. -Likis
(PRWEB) July 02, 2014
Bobby Likis, host of nationally syndicated car-talk program "Bobby Likis Car Clinic," recently shared the mic with several automotive industry insiders and experts. These credible and knowledgeable industry guests shared trends and developments with Car Clinic audiences so that listeners, viewers, fans, followers, subscribers can use this information to enhance their daily driving experiences.
Likis comments, "Recently, I've had the pleasure of speaking with a variety of impressive industry insiders dealing with an array of automotive topics, from a run-down on your vehicle's AC system to the exciting festivities taking place at the Great Race. All of our Car Clinic guests followed through with relevant and entertaining information that our listeners and viewers have come to expect from our program."
To dive into the world of automotive infotainment, visit Bobby Likis interviews.
In the past month, Likis interviewed:
James Bell, General Motors' Head of Consumer Affairs - Bell shared great information on how GM is making it possible to take the car-buying process online.
Wayne Carini, host of "Chasing Classic Cars" on the Velocity channel - Carini called in live from the starting line festivities of the 2014 Great Race in Ogunquit, Maine.
Bobby Elkes, Trainer for IDQ – A/C Pro Brands - Elkes dropped in to talk about a hot topic for summer: your vehicle's AC system.
Len Edmondson, one of the top bike builders in the nation & star of the new History Channel show "Biker Battleground Phoenix" - Edmondson talked about the new TV show and how he ended up in Phoenix, AZ.
Scheduled interviews include:
Jean Jennings- Judge on "Motor City Masters" on TruTV
Al Unser, Jr.- Two-time winner of the Indy 500 and the Performance Expert for Pulstar Pulse Plugs
Lou Camilli- Founder and Chief Technology Officer for Enerpulse Technologies, makers of Pulstar Pulse Plugs.
Chip Foose, Hot Rod Hall of Famer and star of Velocity TV's "Overhaulin"
Tune in live every Saturday from 10a-12n ET at http://www.WatchBobbyLive.com .
About Bobby Likis Car Clinic and the Car Clinic Network:
"Bobby Likis Car Clinic" is the largest car-talk program/network on commercial radio, multiple web audiocasts, live video streaming webcast, podcasts (including iTunes), iPhone, chat room, YouTube, Facebook, Twitter, American Forces Radio Network & television. Car Clinic can be heard and seen in high-definition video on Saturdays, 10a-12n ET, live at WatchBobbyLive.com, on Facebook.com/BobbyLikis and on YouTube.com/BobbyLikis. Host Bobby Likis is the only car-talk host on commercial multi-media platforms named for five consecutive years to the "Talkers 250," the prestigious list of the top 250 talk-show hosts in America.