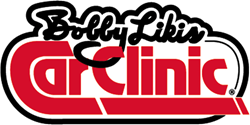 'This little, non-turbo-charged, 4-cylindered powerhouse drives with zest far exceeding expectations for its 170 horsepower.' - Bobby Likis
(PRWEB) August 02, 2014
Bobby Likis, host of nationally syndicated car-talk program "Bobby Likis Car Clinic," concluded his comprehensive evaluation of the 2014 Mazda Miata MX5. Full commentary with drive footage in high-definition video is posted on Likis's YouTube.
After the rigorous evaluation in multiple driving venues from in-town driving to interstate straightaways, Likis reflects that the MX5 is an outperformer in its price category. Says Likis, "This little, non-turbo-charged, 4-cylindered powerhouse drives with zest far exceeding expectations for its 170 horsepower." Also favored by Likis are the mechanical design, ease of execution and visual appeal of the MX's drop top and the safer, more comfortable ride enabled by its 49/51 weight distribution.
Likis highlights the fun nature of the vehicle as driver and vehicle merge in a "pure driving experience without the distraction of too many electronics." Adds Likis, "You simply must drive the Miata MX5. You owe it to your fun self."
For an extensive recap of Miata MX5 elements, drive to Likis's Mazda Miata MX5 Review.
About Bobby Likis Car Clinic and the Car Clinic Network:
"Bobby Likis Car Clinic" is the largest car-talk program/network on commercial radio, multiple web audiocasts, live video streaming webcast, podcasts (including iTunes), iPhone, chat room, YouTube, Facebook, Twitter, American Forces Radio Network & television. Car Clinic can be heard and seen in high-definition video on Saturdays, 10a-12n ET, live at WatchBobbyLive.com, on Facebook.com/BobbyLikis and on YouTube.com/BobbyLikis. Host Bobby Likis is the only car-talk host on commercial multi-media platforms named for five consecutive years to the "Talkers 250," the prestigious list of the top 250 talk-show hosts in America. Likis also owns and operates a 15000sf automotive service center, whose awards include "Best Automotive Service Shop," "Best Oil Change," and most recently, "Best Reputation in Automotive Service."
About Mazda:
azda has developed its business by providing "Zoom-Zoom" cars that are fun to drive. To continue offering customers this "Zoom-Zoom" experience, we see it as our duty to make cars that also provide excellent environmental and safety performance. In order to achieve this we have developed SKYACTIV TECHNOLOGY, a set of innovative new technologies which together realize an unprecedented balance of driving pleasure and environmental and safety performance. These same technologies also enable Mazda to remain profitable despite a strong-yen environment. Vehicles incorporating the full suite of SKYACTIV technologies have received high praise from around the globe. The Mazda CX-5 was named the 2012-2013 Car of the Year Japan and the all-new Mazda6 (Atenza) was chosen as a top-three finalist for the 2013 World Car Design of the Year award. Next, the all-new Mazda3 (Axela), fully redesigned to incorporate SKYACTIV technologies, will be launched globally with sales starting in North America in autumn this year. With successive launches of fantastic new products such as these, we will continue working to improve the value of the Mazda brand.