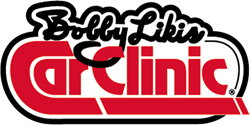 Bobby has been a great partner to Royal Purple for over 10 years so when we discussed doing something crazy for SEMA, the idea of Bobby rapping about our products was irresistible. -Randy Fisher
Las Vegas, NV (PRWEB) November 05, 2014
Bobby Likis, automotive expert and host of nationally syndicated car-talk program Bobby Likis Car Clinic, is scheduled to appear in Royal Purple booth #23057 in the Central Hall of the SEMA Show in the Las Vegas Convention Center today, Wednesday, November 5, at 12:45 p.m. Likis will promote his "Liquid Time Machine" video as his rapping alter-ego, Throbbin' Bobby L. Music and lyrics were written and video was produced by Likis's Car Clinic Network studio team.
Says Randy Fisher, Royal Purple Marketing Director, "Bobby has been a great partner to Royal Purple for over 10 years so when we discussed doing something crazy for SEMA, the idea of Bobby rapping about our products was irresistible."
Likis raps about Royal Purple products he uses in his own award-winning automotive service shop, one of the dozen on-location scenes in the video. Products include Max-Clean® Fuel System Cleaner & Stablizer, HMX™ High-Mileage Oil, Purple Ice® Radiator Coolant Additive, Max-Tane™ Diesel Fuel Injector Cleaner & Cetane Booster, HPS™ High-Performance Street Motor Oil, and the all-new Royal Flush™ Cooling System Flush & Cleaner.
Other automotive celebrities appearing at the Royal Purple booth are NHRA Pro Stock driver, Erica Enders-Stevens; custom car builders, Mike and Jim Ring; host of PowerNation TV, Courtney Hansen; Red Bull Global Rallycross drivers, Bucky Lasek, Sverre Isachsen and Steve Arpin; host of Overhaulin', Adrienne Janic; and of course, Las Vegas Showgirls, promoting the Royal Purple Las Vegas Bowl, airing on December 20 on ABC at 12:30 p.m. PST.
About Bobby Likis Car Clinic and the Car Clinic Network:
Bobby Likis Car Clinic is the largest car-talk program/network on commercial radio, multiple web audiocasts, live video streaming webcast, podcasts (including iTunes), iPhone, chat room, YouTube, Facebook, Twitter, American Forces Radio Network & television. Car Clinic can be heard and seen in high-definition video on Saturdays, 10a-12n ET, live at WatchBobbyLive.com, on Facebook.com/BobbyLikis and on YouTube.com/BobbyLikis. Host Bobby Likis is the only car-talk host on commercial multi-media platforms named for five consecutive years to the "Talkers 250," the prestigious list of the top 250 talk-show hosts in America. Likis also owns and operates a 15000sf automotive service center, whose awards include "Best Automotive Service Shop," "Best Oil Change," and most recently, "Best Reputation in Automotive Service."
About Royal Purple:
Royal Purple is the world's leading lubricant company: The Performance Oil That Outperforms®. Its product portfolio includes a complete line of premium synthetic lubricants and performance chemicals for automotive, commercial trucking and industrial applications. With its proprietary Synerlec® technology serving as the cornerstone for most of the company's products, Royal Purple lubricants excel in head-to-head performance tests by outperforming the competition. For additional information about Royal Purple, visit http://www.RoyalPurple.com or call toll-free 888-382-6300. Like us on Facebook (http://www.Facebook.com/RoyalPurpleFans) and follow us on Twitter (http://www.Twitter.com/Royal_Purple).