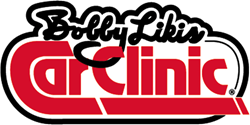 Car Clinic sweepstakes are a fantastic way to connect Car Clinic's automotive sponsor/partners to our listeners and viewers. - Likis
(PRWEB) May 30, 2014
Today, "Bobby Likis Car Clinic" host Bobby Likis announced his new sweepstakes, "Another Bobby's Big Gas" Sweepstakes. Prizes include a $500 gas card from Likis; a PASSPORT Max premium radar/laser detector from ESCORT, Inc; a $250 VISA card from the Renewable Fuels Association; and a lambskin leather jacket from Royal Purple.
Says Likis, "Car Clinic sweepstakes are a fantastic way to connect Car Clinic's automotive sponsor/partners to our listeners, viewers, fans, followers and subscribers. Car Clinic audiences are smart, interactive, and engaged. And Car Clinic partners are innovative, consumer-driven, and quality-committed. It's a perfect match." He adds, "There's nothing better than hearing the excitement in our winners' voices when I tell them they've won a fantastic prize in the Car Clinic Sweepstakes."
To enter the "Another Bobby's Big Gas" Sweepstakes, go to CarClinicSweepstakes.com. Deadline is 11:59:59 p.m. ET on Wednesday, August 20, 2014. Multiple entries will be accepted.
Winners of previous Car Clinic sweepstakes hail from major metropolitan centers across the nation - from New York City to San Francisco to Detroit to Miami.
Likis will announce the "Another Bobby's Big Gas" Sweepstakes winners on Saturday, August 23 and Saturday, April 30, on Bobby Likis Car Clinic live on national radio affiliates; audio e-casts; Facebook; YouTube; and high-definition, live-streaming videocast at WatchBobbyLive.com.
About Bobby Likis Car Clinic and the Car Clinic Network
"Bobby Likis Car Clinic" is the largest car-talk program/network on commercial radio, multiple web audiocasts, live video streaming webcast, podcasts (including iTunes), iPhone, chat room, YouTube, Facebook, Twitter, American Forces Radio Network & television. Car Clinic can be heard and seen on Saturdays, 10a-12n ET, live at WatchBobbyLive.com and on Facebook.com/BobbyLikis. Host Bobby Likis is the only car-talk host on commercial multi-media platforms named for five consecutive years to the "Talkers 250," the prestigious list of the top 250 talk-show hosts in America.