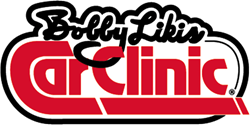 We wanted to be sure that everyone has a fair chance & plenty of time to enter. These prizes are just too good to miss out on! - Likis
(PRWEB) April 09, 2014
In response to participant request, the deadline to enter automotive expert and car-talk host Bobby Likis' "Chill Out & Gas Up" Car Clinic sweepstakes has been extended until Wednesday, April 16. Prizes include a $500 gas card from Likis; a $250 VISA card from the Renewable Fuels Association; a Passport Max radar/laser detector from ESCORT Radar; and a lambskin leather jacket from Royal Purple.
"We had an overwhelming response from Car Clinic listeners, viewers, fans, and followers that were having challenges submitting their entry form late last week due to a technical glitch," says Likis. "We wanted to be sure that everyone has a fair chance and plenty of time to enter. These prizes are just too good to miss out on!"
Likis will announce the "Chill Out & Gas Up" winners on Saturday, April 19, and Saturday, April 26, live on the Bobby Likis Car Clinic globalcast on national radio affiliates, podcasts, multiple e-casts and streaming videocast at WatchBobbyLive.com.
To enter the "Chill Out & Gas Up" sweepstakes before the deadline, go to CarClinicSweepstakes.com. The new deadline is 11:59:59 p.m. ET on April 16, 2014. Multiple entries will be accepted.
About Bobby Likis Car Clinic and the Car Clinic Network
"Bobby Likis Car Clinic" is the largest car-talk program/network on commercial radio, multiple web audiocasts, live video streaming webcast, podcasts (including iTunes), iPhone, chat room, YouTube, Facebook, Twitter, American Forces Radio Network & television. Car Clinic can be heard and seen on Saturdays, 10 a.m-12 noon ET, live at WatchBobbyLive.com and on Facebook.com/BobbyLikis. Host Bobby Likis is the only car-talk host on commercial multi-media platforms named for five consecutive years to the "Talkers 250," the prestigious list of the top 250 talk-show hosts in America.