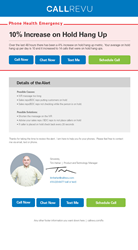 The Phone Health Alerts are the first of their kind and we know it will make an immediate impact on the health of a dealer's phone calls and their bottom line.
BALTIMORE (PRWEB) January 22, 2019
CallRevu, the automotive solutions company that monitors and monetizes the caller's journey from call to purchase and post-sale, announced today an industry-first Phone Health monitoring system with alerts for release to all of the company's customers in March 2019.
CallRevu's instant deal-saving alerts focus on inbound automotive dealerships' phone calls that do not reach the intended person, hang ups while waiting on hold, and/or a voicemail being reached. The new Phone Health algorithm measures a dealership's phone lines and call activity to quickly identify changes that negatively impacts a customer's ability to connect with a dealership or successfully conduct business.
The Phone Health Alerts will be sent to a designated person, triggering one time during a seven-day period unless the issue escalates. Default thresholds were created for Watch, Warning, and Emergency alerts, but dealers can also customize the threshold for all three alerts. Ongoing or escalated phone health issues on the new system will automatically trigger an Emergency alert that notifies dealership decision-makers that a major phone problem exists.
"We are excited to add the Phone Health system to our growing suite of automotive-focused products. These alerts are the first of their kind and we know it will make an immediate impact on the health of a dealer's phone calls and their bottom line," says Tom Harsha, CallRevu Chief Product Officer.
The addition of the Phone Health system and alerts to CallRevu's alert platform comes during a time where the company is bringing a plethora of revamped and new products to their suite, including a seamless VinSolutions integration that matches their integration with ELEAD1ONE CRM, a new innovative website, an advanced Dynamic Number Insertion product, a new company logo, and a revamped user-experience for clients on the company's platform.
CallRevu will be at the NADA show in San Francisco from January 25th -27th at booth #7722W presenting the Phone Health alerts, along with the other product introductions and their new website.
About CallRevu
Founded in 2008, CallRevu was started with the simple idea of transforming the call experience – one of the weak links in the sales process identified by the founders during their experience as Automotive Dealers and General Managers. Witnessing how digital channels (web and email) were rich in information and timeliness, these techniques were applied to the "call" – listening, transcribing, summarizing, alerting, and reporting - to transform the dealership experience and increase the call to cash conversion benefiting the dealerships with increased sales and customer satisfaction. From their humble beginning, CallRevu continues to push the boundaries of innovation – collaborating, training, and optimizing for constant monitoring and continual improvement. For more information, visit us at http://www.CallRevu.com.