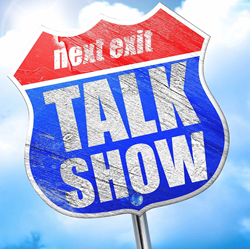 If the body of your car is cracked, maybe your own body is cracked.
ATLANTA (PRWEB) September 23, 2019
Comedians interviewing comedians for talk show host job, Driving with Idiots, is a live talent search contest held at 360AutoMarket.com. Talk show is found to debut on September 24, 2019 at 6pm for five consecutive weeks. The winner reveal on November 5, 2019.
Eric White was asked why he chose Comedians Catina Stewart and Justin Hoffman to interview other Comedians for a job as host. "I'm looking for a segue genius, one who can take charge of a conversation without being overbearing nor without substance. These two professionals will get the talent search job done."
He further responds, "Idiots on our roads cause accidents all the time and I wanted real entertainment industry talent to discuss bad driving behavior without profanity." Mr. White further states that the Interviewers' marching orders include uncovering applicants' skill of being informative and entertaining.
It is also found that Driving with Idiots has two seasons. Season 2: Episode 1 reveals the winner of job search for show's Host. Creative Director stated that he is open for new talent and registration at this link.
Driving safety is a continued concern according to the Georgia Governor's Office of Highway Safety and their mission is to educate the public on traffic safety and facilitate the implementation of programs that reduce crashes, injuries, and fatalities on Georgia roadways.
Another advocate for road safety is Mothers Against Drunk Driving® (MADD). According to their website, it was founded in 1980 by a mother whose daughter was killed by a drunk driver.
It is also recognized that 360AutoMarket.com has an accident recovery section on its home page. Eric was asked to explain this prominent placement. He reveals, "Behaviors of idiot drivers whether drunk, reckless, or distracted, cause many problems on the road including accidents. An accident may be good for the local economy, but not so good for the people involved. This placement is a services resource for recovery."
He continues, "Accidents trigger eight to eleven industries on the road to recovery." He adds, " After the police come, a tow truck may be necessary. Certainly, the next destination is the local body shop. If the body of your car is cracked, maybe your own body is cracked. A chiropractor comes to mind. While you wait for the repair of your vehicle, you will need to get around. Rent a car, call a taxi, or use ride share. You will certainly engage with insurance – yours or theirs AND accident attorneys are just a phone call away. Auto parts are needed. After you get your vehicle back, you may want replace it with a new or used one." He concludes, "These industries are part of your accident recovery process."
Mr. White also gives his statistic that 37% of accident victims search for new insurance quotes within six weeks of that incident. He further shapes statistical view as an excellent opportunity for insurance agencies to offer quotes during this critical time of post accident recovery.
Creative Director was asked about his overall goal with talk show.
He answers, "Idiot-free roads!" he laughs. "I know… Idiots will always be with us. So, the real answer is this." He exclaims, "Revive the power of local with the time-tested value of face to face interaction. In short, local businesses have all but been forgotten in the world of technology and interpersonal interaction. My platform revives the power of local business and re-engages them face-to-face with their existing and potential clients."
Eric completes his assertion by asking local automotive companies to list their business in his directory and be seen by accident victims.
Eric White was asked about milestones to note. He said that his platform has unlimited viewing capabilities without login codes, recent apps accepted in Google Play and AppStore. He ends to say that large event gatherings can broadcast up to 50 camera angles with his platform.
Mr. White also divulges his upcoming virtual green screen to be released in spring of 2020 and this plan coincides with the same talent search for Driving with Idiots - Miami, Driving with Idiots - LA, Driving with Idiots - NY.
Talk show, Driving with Idiots, Atlanta may be watched here.
Eric was asked about when the voting results will be announced. He concludes, "Every job is a contest between applicants. The employer chooses the best one for the job. In this case, the job interview can be watched by anyone, everyone! Voting results are released at next show's broadcast."
Eric White concludes interview by comparing his public job search to American Idol talent search.
Sandra Powell
Automotive Correspondent