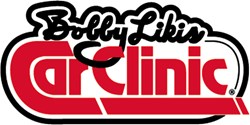 'Some things are worth waiting for. I'm looking forward to being in the studio with Bobby and taking calls from people who have oil questions, which basically means anyone who drives a car, truck, SUV, motorhome or boat.' - Chris Barker, Royal Purple
(PRWEB) October 04, 2013
Due to tropical storm/hurricane Karen in the Gulf of Mexico, Bobby Likis, Automotive Expert & Car-Talk Host, has announced the reschedule of the Royal Purple Co-Host with tribologist and oil expert Chris Barker until Saturday, October 12, from 10a-12n ET. The Co-Host can be enjoyed live at http://www.WatchBobbyLive.com.
Says Likis, "Karen, definitely an uninvited guest to us along the Gulf Coast, has forced our co-host, Chris, to postpone his visit to the Car Clinic studio until October 12." Likis adds, "We've already received a flood of questions via Twitter and Facebook messages, so Chris and I will be ready to take calls and provide answers to lots of oil-related questions next Saturday."
Barker shares, "Some things are worth waiting for. I'm looking forward to being in the studio with Bobby and taking calls from people who have oil questions, which basically means anyone who drives a car, truck, SUV, motorhome or boat."
Conscientious automotive consumers, hands-on enthusiasts, motorsports aficionados, motorcyclists and all who are curious about oil-related or other lubrication applications are invited to tune in to the live videocast from the Car Clinic studio at WatchBobbyLive.com. The toll-free hot-line, 888-Car-Clinic (888-227-2546), opens at 10a ET and closes at 12nET.
Likis is also taking questions in advance on Twitter (http://www.Twitter.com/BobbyLikis) and via Facebook message (http://www.Facebook.com/BobbyLikis).
About Bobby Likis: Bobby Likis is the only car-talk host on commercial radio named to the "Talkers 250," the list of the top 250 talk-show hosts in America for 5 consecutive years. Likis also owns & operates an award-winning automotive service facility. For more information about automotive expert Bobby Likis and the Car Clinic Network, drive to http://www.CarClinicNetwork.com.
About Car Clinic Network: Car Clinic Network is the most extensive car-talk network on commercial radio, including terrestrial broadcast, CarClinicNetwork.com (audiocast live & libraried, streaming videocast, interactive chat), podcast on assorted outlets (including iTunes & iPhone), live on Facebook.com/BobbyLikis, globalcast on multiple Internet stations, and CelleCast (on all cell phones, regardless of brand or service provider). "Bobby Likis Car Clinic" also enjoys reach via Social Media, including Facebook, Twitter & YouTube. Car Clinic's Network is one without geographical confines, and automotive consumers everywhere can watch Bobby live from his studio every Saturday during "Bobby Likis Car Clinic" on WatchBobbyLive.com.
About Royal Purple: Royal Purple manufactures synthetic products for numerous industrial and consumer needs. Join Royal Purple on Facebook at Facebook.com/OfficialRoyalPurple and Twitter @RoyalPurpleInc. For more information on Royal Purple or its products, contact Royal Purple via mail at One Royal Purple Lane, Porter, TX 77365; by calling 281-354-8600; or by visiting http://www.RoyalPurpleConsumer.com.
Got a car question of car expert, Bobby Likis? Call live every Saturday, 10a-12n ET, 888-Car-Clinic (888-227-2546).
No question? Then tune in for a fast ride every Saturday, 10a-12n ET, Car Clinic live videocast: WatchBobbyLive.com