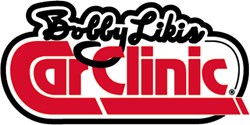 Bobby's listeners take the maintenance and condition of their vehicles seriously, and I enjoy interacting real-time with callers. - Chris Barker, Royal Purple
Pensacola, FL (PRWEB) October 03, 2013
Chris Barker, Tribologist and Technical Services Manager of high-performance lubricants manufacturer, Royal Purple, will once again join automotive industry expert & national multi-media host, Bobby Likis, live in Likis's studio on the Car Clinic globalcast on Saturday, October 12, from 10a-12n ET.
Barker shares, "I had the opportunity to co-host on 'Bobby Likis Car Clinic' last year. Bobby's listeners take the maintenance and condition of their vehicles seriously, and I enjoy interacting real-time with callers." He adds, "The Car Clinic team is a joy to work with, and being on the show is a wonderful experience all around."
Reflects Likis, "Having a tribologist and lubricant expert like Chris on air with me is a real treat for Car Clinic listeners, viewers, fans and followers as oil-related questions are very popular. Chris knows his stuff and can talk in technical and lay terms with equal skill."
Conscientious automotive consumers, hands-on enthusiasts, motorsports aficionados, motorcyclists and all who are curious about oil-related or other lubrication applications are invited to tune in to the live videocast from the Car Clinic studio at http://www.WatchBobbyLive.com. The toll-free hot-line, 888-Car-Clinic (888-227-2546), opens at 10a ET and closes at 12nET.
Likis is also taking questions in advance on Twitter (Twitter.com/BobbyLikis) and via Facebook message at http://www.Facebook.com/BobbyLikis.
About Bobby Likis: Bobby Likis is the only car-talk host on commercial radio named to the "Talkers 250," the list of the top 250 talk-show hosts in America for 5 consecutive years. Likis also owns & operates an award-winning automotive service facility. For more information about automotive expert Bobby Likis and the Car Clinic Network, drive to CarClinicNetwork.com.
About Car Clinic Network: Car Clinic Network is the most extensive car-talk network on commercial radio, including terrestrial broadcast, CarClinicNetwork.com (audiocast live & libraried, streaming videocast, interactive chat), podcast on assorted outlets (including iTunes & iPhone), live on Facebook.com/BobbyLikis, globalcast on multiple Internet stations, and CelleCast (on all cell phones, regardless of brand or service provider). "Bobby Likis Car Clinic" also enjoys reach via Social Media, including Facebook, Twitter & YouTube. Car Clinic's Network is one without geographical confines, and automotive consumers everywhere can watch Bobby live from his studio every Saturday during "Bobby Likis Car Clinic" on WatchBobbyLive.com.
About Royal Purple: Royal Purple manufactures synthetic products for numerous industrial and consumer needs. Join Royal Purple on Facebook at Facebook.com/OfficialRoyalPurple and Twitter @RoyalPurpleInc. For more information on Royal Purple or its products, contact Royal Purple via mail at One Royal Purple Lane, Porter, TX 77365; by calling 281-354-8600; or by visiting http://www.RoyalPurpleConsumer.com.
Got a car question of car expert, Bobby Likis? Call live every Saturday, 10a-12n ET, 888-Car-Clinic (888-227-2546).
No question? Then tune in for a fast ride every Saturday, 10a-12n ET, Car Clinic live videocast: WatchBobbyLive.com