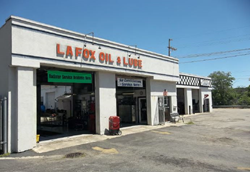 South Elin, IL (PRWEB) March 27, 2014
With Micoley.com's April auction event #4001 approaching, potential buyers in search of a viable commercial investment are eyeing this valuable building and lot that serves as one stop shopping for quick auto repairs in Kane County. This great opportunity lies on N. La Fox Street, also known as Route 31, which is a major north-south thoroughfare connecting the communities along the Fox River Valley.
This business, which has served as one of the area's oil change and automotive repair mainstays since the 1980's, is poised for some technological updates, and the right buyer can turn it into an extremely profitable enterprise once it's brought up to date.
Micoley.com will be auctioning this piece of real estate on April 26, and it won't be alone. A number of businesses, residential properties, retail stores and more will be going up for auction, and Micoley.com is seeing heightened interest in many of the properties, prior to auction. Since Micoley.com allows bids and offers prior to the auction date, buyers of automotive repair centers are advised to take a look at this property quickly, before it's gone.
Built to house a quick lube shop and other automotive services, this property is a versatile income producing opportunity for any investor. Unit 600, which is currently occupied, has a basement where fluid changes can be conducted efficiently, and with 4 drive-in doors and two hoists, the roomy 2,576 square foot garage space with its 14 foot clearance would allow for a variety of repairs to be performed.
Unit 664 is its neighboring unit in the same building. As part of the same auction, 664 can function as a full service repair shop that can house car servicing or even a location for aftermarket part installation, such as car audio components, in addition to mechanical repairs. Unit 664 has the same ceiling height, but is slightly larger in total area at 2,829 square feet. It has 5 drive-in doors instead of 4, along with 2 above-ground hoists, an office, and a small mezzanine storage area.
South Elgin is a thriving community with extensive retail, and suburban residences nearby. Located in the western suburbs of Chicago with easy access by car or commuter rail to downtown Chicago and the surrounding communities, South Elgin is a culturally rich, vibrant city with a rapidly growing population. Commercial real estate in the area is expected to grow in profitability as South Elgin continues to develop.
This property boasts an opening bid of $250,000, assuming there are no offers prior to the auction, bidding will start well below the list price of $399,500. The April 26 event will take place online from 11:00 AM - 2:00 PM CDT.
In the meantime, interested parties should visit http://www.micoley.com to find more photos and details about the property, or by visiting the property in person and performing an inspection on site, which is highly recommended. 1-866-371-3619 is Micoley.com's information line. Additionally, Micoley.com features a live chat service through which questions can be answered.
About Micoley.com:
Green Bay, WI-based Micoley.com is a real estate marketing firm specializing in project focused auctions of bank-owned properties throughout the United States. The Micoley.com approach to real estate marketing tailors each auction plan to the client's individual needs. The site is constantly being updated for the benefit of the buyers, as large scale auction events are held monthly, and new properties are added daily. Broker Firm: Micoley.com LLC #481.011994. Broker: Robert Stone #471.015845.