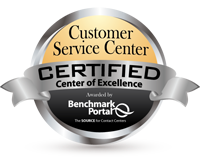 This award is a significant honor for AutoTrader.com's customer service team and our organization as a whole. We take great pride in our people and our technology companywide.
Los Angeles, CA (PRWEB) May 20, 2014
The AutoTrader.com customer contact center has been certified as a Center of Excellence by BenchmarkPortal, a leading contact center research and consulting organization. "This certification attests to the fact that call center leaders have successfully balanced efficiency and effectiveness in their operations," said BenchmarkPortal CEO Bruce Belfiore. "By optimizing their cost components and their ability to satisfy customers, they exemplify best practices in a very important consumer products sector."
To achieve certification as a Center of Excellence, a company must undergo a rigorous benchmarking process, which compares the organization's operational metrics to those of its peers, using the world's largest database of contact center metrics. During this process, BenchmarkPortal experts audit and verify key data from the contact center applying for certification.
Factors (called key performance indicators) such as first call resolution, cost per call, call waiting time, customer satisfaction, agent satisfaction and utilization of human resources are taken into account. BenchmarkPortal is able to scientifically gauge how the contact center being studied compares to other centers in the same industry, and if the performance of the contact center is superior. Customer satisfaction, which relates to customer loyalty and business growth, is the goal, balanced by financial metrics which show that the center is being operated efficiently.
"This award is a significant honor for AutoTrader.com's customer service team and our organization as a whole," said Pat Dennis, director of customer service, consumer and specialty sales at AutoTrader.com. "We take great pride in our people and our technology companywide, and to be recognized by BenchmarkPortal for the second consecutive year is proof that we are continually improving our systems to provide the best possible customer experience."
"Center of Excellence certification indicates that the contact center delivers superior customer service within a responsible cost structure," said Belfiore. "This achievement confirms the call center's ability to deliver service that is both efficient and effective. AutoTrader has shown its ability to achieve that balance through its objective performance metrics. We have validated its metrics and have certified that AutoTrader is, indeed, among the best in its industry. I congratulate AutoTrader on a job well done."
"The achievement of the Center of Excellence represents a contact center's commitment to delivering customer service that is both effective and efficient. It is the culmination of important initiatives that were undertaken to achieve sustainable service excellence," added Belfiore, who has been with the company since 2000.
About BenchmarkPortal
BenchmarkPortal's founders pioneered the first contact center benchmarking study in 1995. Now custodian of the largest database of contact center metrics in the world, BenchmarkPortal is a leader in certification, training, consulting and research for the customer contact industry. Its team of professionals has gained international recognition for expertise and innovation in best practices. BenchmarkPortal's mission is to help management optimize the performance of their center in terms of both cost and quality, encourage customer loyalty and build enterprise value. For more information on BenchmarkPortal, call 1-800-214-8929 or visit http://www.BenchmarkPortal.com.
About AutoTrader
Created in 1997, Atlanta-based AutoTrader.com is the Internet's ultimate automotive marketplace. As a leading resource for car shoppers and sellers, AutoTrader.com aggregates millions of new, used and certified pre-owned cars from thousands of dealers and private sellers and provides expert articles and reviews. AutoTrader.com, which also operates the AutoTraderClassics.com auto marketing brand, is wholly owned by AutoTrader Group. Additionally, AutoTrader Group owns Kelley Blue Book (KBB.com®) as well as companies that provide a full suite of software tools that help dealers and manufacturers manage their inventory and advertising online: vAuto®, HomeNet Automotive®, VinSolutions®, AIS Rebates™, Genius Labs® and Haystak™. AutoTrader Group is a subsidiary of Cox Enterprises. For more information, please visit http://press.autotrader.com.