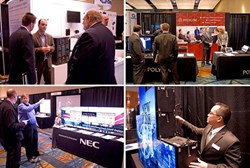 Durham, NC (PRWEB) September 05, 2013
Whitlock, a leading AV solutions provider, is holding its showcase and seminar series, Convergence, at the Sheraton Imperial Hotel in Durham on October 1st. This event will feature the best in collaborative AV technologies, plus expert advice on technology implementation management, enterprise standards, user adoption and managed support.
On display on the show floor will be the latest solutions for videoconferencing / telepresence, unified communications, digital media, 3-D and immersive technologies, projection systems and integrated automation and control systems. Participating manufacturing partners include Polycom, Cisco, Crestron, SMART, Christie Digital, Extron, NEC, Biamp, Sony, Shure, AMX and others. It's the largest show of its kind in the area featuring more than 50 leading vendors.
New for 2013 will be a focus on AV and video integration with Microsoft Lync® on desktop and mobile devices as well as in boardrooms and huddle spaces. In addition, Whitlock will showcase emerging virtualized infrastructure that can be deployed within the firewall or through a cloud services model, reducing costs and improving scalability.
Whitlock will be demoing its v-Scheduler solution throughout the day, which not only schedules rooms through Outlook, but automates the AV and video to ensure that meetings start on time, every time without the need for expensive concierge services. The company will also debut a number of new cloud services for monitoring and supporting AV assets from its global AVNOC together with its "follow the sun" helpdesk model for customers who need seamless support wherever they operate in the World.
Whitlock's Convergence show is an open house style event, which runs from 9am-3pm, and is the perfect venue for AV and IT decision makers, architects, general contractors and facilities managers involved in complex technology implementations. The primary goal is to create an interactive forum for Assessing and discussing the latest technologies, and how to make best use of these essential business tools across the enterprise.
Whitlock offers unique seminars for a further dive into the hottest AV issues, and industry expert Gary Kayye will participate. Whitlock has also added two new AIA continuing education seminars with 1RU/HSW credit each.
Refreshments are provided and door prizes include an iPad, iPod's, digital cameras and a Sony 46" 3D HDTV. To register or learn more, check out whitlock.com/events.
About Whitlock
Whitlock is a Global AV Solutions Provider, specializing in collaborative technology design, integration and managed services. The company helps clients implement interactive environments, including telepresence/videoconferencing rooms, digital signage networks, collaborative classrooms, visualization rooms, and control rooms/network operations centers. Whitlock also offers expansive AV managed services, including AVNOC and remote support, field services, on-site managed services, videoconferencing warranty/maintenance and virtual and hosted video services. The company currently has 20 U.S. locations, plus a worldwide delivery partner network through the Global Presence Alliance.