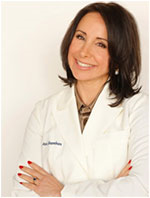 SKINxFIVE was inspired by the concept of a beauty bar, where men and women can stop in for tried-and-true services in just 20 minutes to an hour. - Dr. Ava Shamban
Pacific Palisades, CA (PRWEB) October 07, 2016
Dr. Ava Shamban is one of the most highly sought-after dermatologists in Los Angeles, appearing on numerous TV shows and in countless publications. With so many new and improved anti-aging treatments flooding the market every year, it is no surprise that Dr. Ava is frequently asked for her top recommendations of the best skin treatments available. To help answer that question, Dr. Ava discusses the launch of SKINxFIVE, a skin clinic dedicated entirely to the board-certified dermatologist's top five treatments, in an in-depth interview with W Magazine.
"SKINxFIVE was inspired by the concept of a beauty bar, where men and women can stop in for tried-and-true services in just 20 minutes to an hour," said Dr. Ava Shamban. "It's essentially a one-stop skin care clinic with specially curated services designed to address the most common skin complaints with the most effective treatments available. With extensive research, I narrowed down the menu to just five categories that are essential for protecting and nourishing the skin."
The five categories of services available at the first SKINxFIVE, located in Pacific Palisades, CA, include:
− Skin refreshing chemical peels,
− Hydrating microdermabrasion facials
− Wrinkle-relaxing injections
− Laser resurfacing
− Radiofrequency skin tightening
Patients can select specific services to address their unique needs, or receive the full range of treatments in one appointment for comprehensive skin maintenance and protection. To learn more about each service, and to schedule an appointment, please visit: https://www.skinxfive.com/
"In order to see the results of diet and exercise, you have to be consistent, and the same is true for keeping your skin healthy," said Dr. Ava. "SKINxFIVE provides affordable solutions so patients can undergo effective, low-energy treatments on a regular basis to prevent the signs of aging, rather than waiting until after the wrinkles have started to form and then trying to reverse them. Taking a preventative approach is really the best way to keep your skin fresh and youthful for as long as possible."
About Dr. Ava Shamban
AvaMD, a Medical and Cosmetic Dermatology practice, was founded by Dr. Ava Shamban to provide a spirited, results-driven approach to skin care, supported by advanced technology and a rigorously trained staff committed to extraordinary service. Dr. Ava Shamban - a renowned board-certified dermatologist licensed to practice medicine in California, New York, and Hawaii--graduated magna cum laude from Harvard University before receiving her medical degree from Case Western Reserve Medical School. In addition to serving as Assistant Clinical Professor of Dermatology at the UCLA-Geffen School of Medicine, she is recognized as the "Extreme Makeover" dermatologist and the resident expert on the Emmy-winning daytime talk show, "The Doctors." Dr. Shamban is also the author of the book, Heal Your Skin: The Breakthrough Plan for Renewal (Wiley).
As a key opinion leader in the field, Dr. Shamban has lectured extensively both nationally and internationally on topics ranging from medical and cosmetic to laser dermatology. She is a pioneer in developing the multimodal treatment approach to acne, acne scars, pigmentary problems, and rosacea; has served as principal investigator on many clinical trials for both pharmaceuticals and devices that led to FDA approval; and has published extensively in prestigious medical journals. She is frequently featured as a dermatology expert on local, national and international television shows. Dr. Ava is a passionate advocate for natural good looks through scientifically proven treatments and healthy lifestyle changes that restore and heal skin and spirit, at the same time empowering men and women of all ages to live more confident, healthy and happy lives. For more information, please visit: http://www.skinxfive.com
SKINxFIVE
970 Monument St #216
Pacific Palisades, CA 90272
(424) 329-5213
skinxfive(at)gmail.com