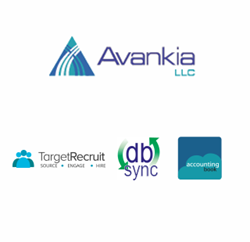 We're committed to change business ecosystem of the software industry at domestic and international platform. We intend to create a win-win situation for the channel partners and the companies by offering new sources of revenue
(PRWEB) November 26, 2014
Avankia, a leading CRM consulting firm specializing in implementation, customization and application development welcomes new value added reseller partners to reach out to a wider spectrum of the global market place.
Avankia is pioneer in CRM consultation and specialist in implementation, customization and application development for business. The firm delivers scalable web-based enterprise solutions that includes TargetRecruit, DBSync and AccountingBook as its product lines. The customization, scalability, robustness and flexibility of Avankia's products allow businesses across the globe to manage all their web-based enterprise solutions under a centralized terminal.
Avankia collaborations with Corrao Group, Ramsey Solutions and Robuzt Solutions are out to change the business dynamics in the software industry, domestic and international to create a win-win situation for both channel partners and the companies by offering new sources of revenue through this collaboration.
This partnership with Avankia across the globe will enable the resellers to expand their market arena and add new source of revenue by reselling Avankia products, which is a brand name in the segment of IT driven enterprise solutions.
To bring the most effective technology to the marketplace, Avankia's products are highly customized to combat organization's unique business challenges by leveraging its expertise in CRM , Technology Consulting for SaaS and Web Apps.
Sumit Pathak, Global Partner Manager of Avankia says, "We're committed to change business ecosystem of the software industry at domestic and international platform. We intend to create a win-win situation for the channel partners and the companies by offering new sources of revenue through this collaboration. We are sure this partnership would help us as well as our channel partners in exploring new avenues of business opportunities."
To outreach the worldwide customers, Avankia is developing a strong network of value added resellers (VARs) to contribute their purchasing experience and take this partnership to most profitable and promising level. The company believes in partnering for success and is dedicated to working with the best technology partners in the world as well as assisting resellers in marketing programs and sales tools designed to help them succeed.
About Avankia LLC
Avankia LLC is a CRM consulting firm specializing in implementation, customization and application development. Avankia LLC is a global company uniquely positioned to implement the most scalable and efficient web-based Enterprise Solutions including TargetRecruit, DBSync, and AccountingBook.
About TargetRecruit
TargetRecruit is a leading Ecosystem of cloud-based staffing apps built on the Force.com platform. Serving companies on six continents, the TargetRecruit ecosystem provides everything staffing companies need to source, hire and manage top talent.
TargetRecruit is one of the most highly recommended recruiting applications on Salesforce.com's application marketplace, AppExchange. Staffing and recruiting firms worldwide use TargetRecruit as an end-to-end solution for running their staffing business because of the flexibility, mobility, and ease of customization. Clients can add and subtract apps according to their changing business needs.
About DBSync
DBSync is a leading provider of data replication and application integration for the CRM, accounting and data integration markets. With easy to use pre-built maps and powerful Extract, Transform, and Load (ETL) capabilities, DBSync enables users to easily link information between leading Cloud and On-premise based CRM, Hospital Asset and Case Management applications, accounting applications, along with support for on-premise applications running databases. DBSync provides support, training and consulting services for its integration solutions. DBSync focuses on providing integration solutions through its Integration Platform As A Service - iPaaS offering.
About AccountingBook
AccountingBook is the latest launch of Avankia on the Salesforce Platform which will help organizations manage their financial data on the cloud. AccountingBook is built on Force.com, you can leverage your investment in salesforce and run your Marketing, Sales, Support and Accounting all in one place. Customers can Store, Manage, Track, Analyze and Report financial data on cloud. AccountingBook works with both Salesforce and it can work along with your existing accounting system.
Avankia is headquartered in Nashville, Tennessee with offices in Sunnyvale California, Bangalore, India, Minsk, Belarus and Sydney, Australia.
For more on Avankia, visit http://www.avankia.com or call 1-877-739-2818.