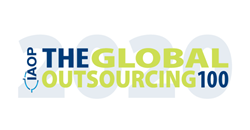 "As a future-focused organization, our innovations keep us ahead of the curve, and we are thrilled to be recognized by IAOP for our success."
LOS ANGELES (PRWEB) May 15, 2020
Avasant proudly receives the highest recognition awarded by the International Association of Outsourcing Professionals (IAOP). Both the IAOP 2020 Global Outsourcing 100 and IAOP World's Best Outsourcing Advisors awards are the sourcing industry's most respected independent recognitions.
For 2020, Avasant leads in all IAOP key evaluation categories, including: The TOP Global Outsourcing 100, Sustained Excellence, and as an All-Star Company. IAOP conducts an independent evaluation based on a review of the following:
1. Customer References, as independently evaluated by the selected company's top customers
2. Awards & Certifications, as demonstrated through industry recognition and relevant organizational and individual professional certifications
3. Programs for Innovation, as demonstrated through specific programs and resulting outcomes that produce new forms of value for customers
4. Corporate Social Responsibility (CSR), as shown through corporate programs and outcomes that address such topics as environmental sustainability, gender equality, and youth education.
Judging is based on a rigorous scoring methodology that includes an independent review by IAOP customer members with extensive experience in selecting outsourcing service providers and advisors for their organizations. Avasant is proud to have been awarded the maximum possible scores for each of the judging categories.
The 2020 selection panel was led by IAOP CEO, Debi Hamill and included:

Daniel Beimborn, Frankfurt School of Finance & Management
Teresa Harris, General Electric
Mary D. Lewis, Sprint
Cheryl Seely, Thomson Reuters
F. Arlene Elk, Halyard Health
Mike Fabrizi, The MITRE Corp
Heiko Gewald, Neu-Ulm University of Applied Sciences
The Global Outsourcing 100 is the definitive guide to help companies research and compare service providers with whom they are considering relationships. Hamill, emphasizes, "We're proud to again recognize Avasant for being among these companies in 2020 and for being consecutively recognized by IAOP for its excellence since 2009."
Avasant CEO and Chairman, Kevin S. Parikh underscores the importance of IAOP, "Selecting the right partner and sourcing advisor has never been more challenging, IAOP provides a valuable and independent certification to help buyers identify quality consulting firms." Parikh explains, "Our high-value engagements continue to exceed expectations, resulting in longstanding partnerships built on trust and commitment to excellence in all our efforts. As a future-focused organization, our innovations keep us ahead of the curve, and we are thrilled to be recognized by IAOP for our success."
The Coronavirus has made relationships more complex and requires companies to work flexibly and across multiple time zones and platforms. Hamill explains, "Companies that outsource, not only in the traditional sense but also through the wide array of the ever-changing collaborative business models, are scrutinizing their partners very closely, which is why choosing the right partners is more important than ever."
This recognition comes on the heels of a recent "Women Empower Women" recognition awarded to Avasant Foundation Executive Director, Chitra Rajeshwari at IAOP's Outsourcing World Summit 2020, Avasant is honored to receive recognition from IAOP for the twelfth year in a row among the Global Outsourcing 100.
About Avasant
Avasant is a leading management consulting firm focused on translating the power of technology into realizable business strategies for the world's largest corporations. Specializing in digital and IT transformation, sourcing advisory, global strategy, and governance services, Avasant prides itself on delivering high-value engagements through industry-focused innovation and flexible client-based solutions.
Our seasoned professionals have an average of 20 years of industry-honed expertise, having conducted 2000+ engagements in over 50 countries. Avasant's next generation consulting and advisory methods have made it the top-ranked firm in its class, with recognition from numerous organizations, including: Vault, NOA, IAOP, and Wall Street Journal.
Avasant's engagement in the global market has inspired a strong commitment to community and purpose. Avasant Foundation supports technology and skill development programs to create employment opportunities for youth across Africa, Asia, the Caribbean and Latin America.
For more information, visit http://www.avasant.com.
Follow news, photos and video on Twitter at http://www.twitter.com/avasant, Facebook at https://www.facebook.com/avasantllc, and
LinkedIn at https://www.linkedin.com/company/avasant.
About IAOP
IAOP is the go-to association leading the way to improve outsourcing outcomes by bringing together customers, providers and advisors in a collaborative, knowledge-based environment that promotes professional development, recognition, certification and excellence. With over 120,000 members and affiliates worldwide, IAOP is not only on top of the latest trends but in front of them. Through its expansive global chapter network, premier training and certification programs, knowledge center, member community and more, IAOP helps members learn, grow and succeed. For more information and how you can become involved, visit http://www.IAOP.org.