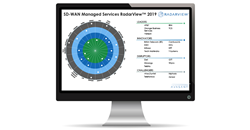 Enterprises are relying increasingly on their high bandwidth distributed networks to provide differentiating customer experience. SD-WAN, with its ability to provide flexible networks, efficient bandwidth utilization and faster access to SaaS apps, is emerging as a key solution.
LOS ANGELES (PRWEB) July 23, 2019
Avasant unveiled its SD-WAN Managed Services RadarView™ 2019, its pioneering market assessment report that recognizes top 22 providers for SD-WAN Managed Services. These providers have shown mature capabilities and consistent growth in their SD-WAN managed service offerings and have been assessed across three key dimensions – practice maturity, partnership ecosystem and investments & innovation.
The report categorizes SD-WAN Managed Services RadarView as follows:

Leaders: AT&T, IBM, Orange Business Services, TCS, Verizon
Innovators: British Telecom, CenturyLink, DXC, HCL, Infosys, NTT, Tech Mahindra, T-Systems
Disruptors: Dell, GTT, Masergy, Telstra, Wipro
Challengers: Atos|Syntel, Mphasis, Telefonica, Zensar
Download Avasant's complimentary 82-page report here.
George Clark, a partner with Avasant, congratulated the winners noting, "Enterprises are becoming more global, and are relying increasingly on their high bandwidth distributed networks to provide differentiating customer experience. SD-WAN, with its ability to provide flexible networks, efficient bandwidth utilization and faster access to SaaS applications, is increasingly emerging as a key solution for such progressive enterprises that are looking to enhance business agility and to seize new growth opportunities. Our SD-WAN Managed Services RadarView 2019 is aimed at providing enterprises with a decision framework to assist in this endeavour by helping them identify the right service provider partners for their SD-WAN programs."
Network transformation is a key backbone activity for true enterprise digital transformation. SD-WAN is a critical element of this network transformation and, in combination with other complementing digital technologies, helps enterprises to unlock data from disparate systems, optimize network operations and proactively monitor outages. SD-WAN Managed Service providers recognized in this report have understood the enterprise challenge and are reinventing themselves to become true advisors and enablers for enterprises network transformation.
Some key observations from this research program include:

Nearly 20% of Global 2000 enterprises are using SD-WAN to enable operational effectiveness, improve customer experience, business agility and seize new opportunities for growth. This number is expected to double over the next 36 months, primarily due to increased adoption of hybrid cloud environments that require advanced network capabilities and topologies.
Industries that require high bandwidth, such as Telecom, Media & Communication, and those that are geographically dispersed, such as Manufacturing (including high tech), and Retail & CPG (together constitute 65% of the total SD-WAN revenue), have been early adopters of SD-WAN and have scaled implementations in last 12 months, while highly regulated industries like healthcare and BFSI are slowly gaining momentum
SD-WAN technology startup ecosystem has become vibrant with significant funding (more than 1 billion) and marquee acquisitions. Traditional technology providers are leveraging these acquisitions to acquire IP, rapidly expand capability and develop adjacent services
Service providers in conjunction with leading SD-WAN technology providers are offering new features including network analytics, predictive maintenance, auto-healing etc. to help their enterprise customers improve network resilience, shorten resolution time, and enhance business agility
Avasant's Associate Director, Mark Gaffney, added "As enterprises begin to uncover increasing challenges related to complex networks, remote sites and cloud connectivity, they will need to replace, or augment, their legacy MPLS infrastructure with SD-WAN. For this, enterprises need to identify clear value-driven business case, partner with service providers with large, complex implementation experience and upskill existing talent with cloud, automation and core-networking skills."
About Avasant
Avasant is a leading management consulting firm focused on translating the power of technology into realizable business strategies for the world's largest corporations. Specializing in digital and IT transformation, sourcing advisory, global strategy, and governance services, Avasant prides itself on delivering high-value engagements through industry-focused innovation and flexible client-based solutions.
Our seasoned professionals have an average of 20 years of industry-honed expertise, having conducted 1000+ engagements in over 50 countries. Avasant's next generation consulting and advisory methods have made it the top-ranked firm in its class, with recognition from numerous organizations, including: Vault, NOA, IAOP, and Wall Street Journal.
Avasant's engagement in the global market has inspired a strong commitment to community and purpose. Avasant Foundation supports technology and skill development programs to create employment opportunities for youth across Africa, Asia, the Caribbean and Latin America.
For more information, visit https://www.avasant.com.
Follow news, photos and video on Twitter at http://www.twitter.com/avasant, Facebook at https://www.facebook.com/avasantllc, and LinkedIn at https://www.linkedin.com/company/avasant/.