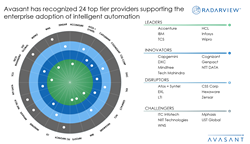 "Artificial Intelligence (AI) and Robotic Process Automation (RPA) are supercharging opportunities to enhance critical business functions. But even beyond this, as these technologies converge further they will generate game-changing business value for organizations across industries."
LOS ANGELES (PRWEB) August 23, 2018
Avasant today unveiled its pioneering RadarView™ market assessment for the Intelligent Automation (IA) segment. The RadarView™ report covers the top 24 service providers that have shown mature capabilities, innovation and consistent growth in their intelligent automation offerings. The report categorizes the top service providers as follows:
Leaders: Accenture, HCL, IBM, Infosys, TCS, Wipro
Innovators: Capgemini, Cognizant, DXC, Genpact, Mindtree, NTT DATA, Tech Mahindra
Disruptors: Atos + Syntel, CSS Corp, EXL, Hexaware, L&T Infotech, Zensar
Challengers: ITC Infotech, Mphasis, NIIT Technologies, UST Global, WNS
Download Avasant's complimentary 88-page report here.
Avasant's CEO, Kevin S. Parikh, congratulated the winners noting, "Artificial Intelligence (AI) and Robotic Process Automation (RPA) are supercharging opportunities to enhance critical business functions ranging from customer service, IT, HR, marketing, and accounting. But even beyond this, as these technologies converge further they will generate game-changing business value for organizations across industries."
On its own, there are limits to the benefits RPA can offer. However, when coupled with machine learning, AI, and predictive analytics, organizations can achieve much greater business value. What's more, organizations are increasingly choosing outsourcing partners based on their intelligent automation expertise, with over 60 percent citing these capabilities as a significant factor in service provider selection.
With enterprise-wide acceptance of RPA, Intelligent Automation is at an inflection point:

While there is growing adoption of AI led automation it is still in early stages with nearly 90% of IA revenue being generated from RPA engagements.
Over 50% of IA revenue is contributed by banking, insurance, retail and CPG sectors.
Automation is increasingly impacting both the sourcing criteria and contract terms in outsourcing deals. In the last 12 months, 50-60% of renewal and 60-70% of new outsourcing deals included automation considerations.
Avasant's Automation Practice Leader, Chirag Rawat, added, "In the past, automation could only be implemented in extremely rules and structured data based processes. But today, intelligent automation can interpret images, have smart conversations with customers, understand process variations, reference countless databases, flag inconsistencies and more, at blistering speed. It's no surprise there has been a steep rise in demand for these capabilities across all industries."