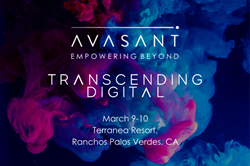 Go beyond 'digital' to discover how technology can be used to create both economic and social value.
LOS ANGELES (PRWEB) January 30, 2020
Avasant to host its flagship Empowering Beyond Summit at the breathtaking Terranea Resort in Rancho Palos Verdes, CA. The event will take place on March 9 and 10, 2020.
This Summit will bring together over 300 senior-level executives for a day of thought leadership, engaging discourses, and interactive experiences. Speakers from verticals across the Fortune 500 spectrum will share their stories and insights on the transforming digital landscape. Hear from innovators like:

Bharat Amin, EVP and CIO, Huntington Ingalls Industries
Ravi Ohri, VP and CFO of IT, Freddie Mac
Rhonda Vetere, Global CIO, Herbalife
Shanker Trivedi, SVP of Enterprise Business, NVIDIA
Nuria Simo, CIO, Inter-American Development Bank
Rick Gehringer, CIO, Milken Institute
VP and Chief Administrative Officer, European Bank of Reconstruction and Development
Charles Sims, Head of Technology, LA Clippers
Vic Verma, CIO, International Fragrances and Flavors
Youri Bebic, Global Head of Product & Innovation, MoneyGram
Sidney Madison Prescott, Managing Principal, Intelligent Automation, E*Trade
Ajay Jindal, Senior Director of Automation COE, LexisNexis
This year's theme, "Transcending Digital" encourages attendees to go beyond 'digital' to discover how technology can be used to create both economic and social value. EBS programming will explore how digital solutions, strategic sourcing, and automation are driving real business value.
Avasant's CEO and Senior Partner, Kevin S. Parikh shares, "As we enter this next decade, we are at the intersection of tremendous opportunities and challenges presented by the convergence of digital and technology. In this new era, we are transcending. By applying moonshot thinking and technology innovation to create an engaging and more sustainable business landscape, enterprise can continue to succeed."
Each year, Empowering Beyond Summit's exclusive location is designed to provide a truly immersive experience for attendees. This year's venue, Terranea Resort, exudes California's quintessential charm and provides guests with the opportunity to experience both Avasant's Empowering Beyond Summit and Avasant Foundation's Impact the Future, without ever leaving the resort.
Registration is now open and can be accessed via the Empowering Beyond Summit 2020 event page. For inquiries, please reach out to Stacey Rogers at stacey.rogers(at)avasant.com.