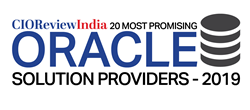 "We have an excellent relationship with the Oracle Product Development, which gives us an edge to understand Oracle's current offerings and upcoming functionalities, allowing us to better advise our customers to plan their supply chain efficiently," concludes Nikhlesh Pathik, Director, AVATA India.
KANPUR, India (PRWEB) September 24, 2019
Enabling organizations to choose the right vendor to work with, CIOReviewIndia comes to the fore with a list of "20 Most Promising Oracle Solution Providers - 2019". This list presents information of skilled vendors that possess technically adept teams, domain expertise, industry-rich experience and a proven track record having serviced a broad range of customers. A distinguished panel consisting of highly knowledgeable CEOs, CIOs, industry analysts and CIOReviewIndia editorial team, post having conducted market research, have finalized on the final 20 vendors who can assist businesses achieve their business goals with increased customer satisfaction.
"AVATA is honored to be included in this award. Built on the foundation of deep industry, business, and technology experience, AVATA is one of the leading Oracle global consultancies for Supply Chain Management, ERP and EPM across all industrial verticals. AVATA has been providing Oracle consulting services for more than 20 years and is recognized for its global capabilities in helping companies solve critical business challenges through people, process, and technology," says Anil Thomas, CEO, AVATA.
AVATA's Cloud Roadmap offers comprehensive strategies to accelerate customer's business into the Cloud and provides end-to-end support of the system post-deployment. "We have developed integrations and pre-built adapters on our eLync platform that governs data management and standardizes interaction across diverse ERP's backbones and the Cloud," says Sanjay Agrawal, VP Operations, AVATA. "Our combined proven methodology, product knowledge, and implementation expertise ensure the best use of customer's business and IT resources.
AVATA has the domain expertise to transform businesses and supply chains and the unparalleled expertise to properly implement Oracle ERP and Supply Chain solutions. As a result, AVATA delivers solutions that are a competitive advantage to our clients in their respective marketplaces.
About AVATA
AVATA, a leading strategic partner of Oracle, is recognized for its global capabilities in helping companies solve critical business challenges through people, process and technology. We offer the unique blend of real-world industry experience, best practices, and software expertise that sets us apart from pure system integrators. Leveraging Oracle Cloud, JD Edwards, EPM and Supply Chain Management solutions, we provide our clients with a strategy that fits their organization and competitive processes that differentiate them in their respective markets and successfully deliver rapid improvements impacting bottom-line performance. Contact us at http://www.avata.com to learn more.
About CIOReviewIndia
CIOReviewIndia is a technology magazine that talks about enterprise solutions that can redefine the business goals of enterprises tomorrow. It is the leading source that shares innovative enterprise solutions developed by established solutions providers, upcoming hot enterprises and is a neutral source for technology decision-makers. Published from Bangalore, Karnataka, CIOReviewIndia is an excellent platform for the enterprise to showcase their innovative solutions. While India enterprise market is growing exponentially, there is a vacuum among entrepreneurs of enterprise startups. We believe that there is no other platform which gives companies a heads up on the innovative solutions that the startups are working on, what are the needs that haven't been met yet and more. CIOReviewIndia will act as a platform allowing high-level executives in the enterprises to share their insights, which in turn will help the enterprise startup ecosystem, help technology and business leaders with analysis on information technology trends and give a better understanding of the role that enterprise solutions play in achieving the business goals.