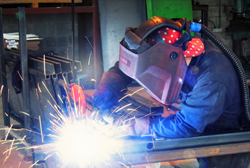 AV Danzer announces major new updates and business gains.
Manchester, England (PRWEB UK) 23 February 2016
AV Danzer, one of the UK's largest manufacturers of modular and portable buildings announces new business gains and shares updates on important contracts both in the public and international sector.
The organisation celebrates these new business wins with figures released this past weekend. Helen Scott, CEO announced on Friday February 19th "We've just been adding up our sales figures and in the last week (well 8 days to be exact) we have received orders for 131 units in contracts totalling £1.121m. We knew we were busy but hadn't quite realised to what extent!"
Scott continues, "All of these orders were for steel units and OpenSpace products which will go into production at AV Danzer's Langley Mill, Nottingham site before being delivered to construction sites across the country from Glasgow and Carlisle to Banbury and Eastleigh. The contracts range in size from a single store to a stack of 26 modules which will provide extensive welfare facilities and office accommodation."
These orders follow recent new client updates announced in AV Danzer's media channels over the last few days.
Danzer Limited has provided 11 site welfare units for Reis Construct in a contract worth over £100,000 to build 155 new houses on the Grade II listed site of Manchester's historic Barnes Hospital. These will provide a large and roomy OpenSpace meeting room and a canteen with kitchen servery area.
Barnes Hospital was was built in 1875 by Robert Barnes and operated throughout the world wars, caring for injured soldiers and patients with tuberculosis and yellow fever.
The organisation will also supply respite units to allow a 24 hour presence along with an additional shower, and 3 single welfare units.
Danzer also focusses on the expansion of international business and the recent installation of a document storage facility for Iron Mountain in Helsinki, Finland on behalf of long standing client Osborn Associates.
Bill Holloway, Director tells about battling the increasingly stormy seas to ensure the project was delivered on time and in perfect condition.
"It took just one month to build and fit out the four HighLine modules from our Nottingham production unit. The articulated trailers and were all ready to head off in the direction of Hull Docks, Helsinki-bound. We were advised of long delays in the North Sea due to the relentless stormy weather we experienced across Europe at the time.
"Prior to departure the windy weather continued and we were allocated two alternative vessels both of which could have suffered during the storm. On the day of departure Storm Desmond fully reared his ugly head and our shipping contractor had to move us onto yet another alternative carrier, the massive MV Finn-hawk.
"Three days later the units rolled off at port in Helsinki. Once the erection and linking was done the sub contractors moved in swiftly to finish their work and the building was handed over to a very happy client, on schedule."
AV Danzer is proud of these recent developments and the hard work it's team delivers with sometimes difficult challenges, and is looking forward to continuing this trend into 2016 as the year unfolds.
AV Danzer are based in Manchester, London and Nottingham in the UK and provide modular, prefabricated, secure steel buildings, on-site sanitary solutions, and portable offices for short term, or long term use in the Education, Healthcare, Technology, Sports, and Construction Sectors. Custom built solutions are always available.
For more information about offsite construction methods for modular buildings call Helen Scott 0800 012 6563 or visit http://www.avdanzer.co.uk