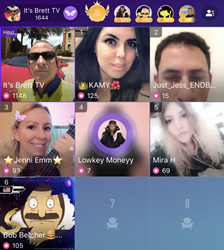 Virtual gifts are flying across the screen, coins (Uplive's virtual currency) are added to each guest's account when they received virtual gifts from the audience. They can redeem the coins they received for cash. There were prizes for the lucky winners
NEW YORK (PRWEB) May 09, 2019
Avengers: Endgame is now the second-biggest movie in history. Uplive's Avenger fans are thrilled for its success and even more excited to get together and talk about the movie they enjoyed so much. Thus, an Uplive's Avenger Chat Virtual Party was held last Friday to celebrate the movie and for fans to have a good time sharing their thoughts.
Nine Avenger fans each grabbed a chair at the virtual party and chatted hour long about the movie. Among them is the Uplive broadcaster Lowkey who has seen Avengers series 21 times. He came to the party with valuable insights that at times eased fans' concerns - when Robert Downey Jr's gaunt appearance was brought up, he told the panel that it was due to his stay in the space with little supplies for months. Host Brett Schulman is a seasoned TV and radio show host, he has hosted many featured shows on Uplive such as the Dating Show and Uplive's Radio Broadcast. His energy is penetrating. He asked guests "Who is your favorite character or least favorite character in the Endgame?" "What's your favorite part?" "What did you think about the fight between good and evil?" The answers could be surprising or unanimous, but there was never a dull moment. A show like this is the perfect place to hear what others have to say about any topic.
The 9-chair virtual party is the latest trend on Uplive, a leading live stream app, where real people meet up from the comfort of their home. There are themed parties such as Pajama Party, The Dating Game, Wheel of Fortune, and etc. Some of them offer sizable prizes for the lucky attendees like television set, beauty products, as well as a free trip to Las Vegas. Join the parties is free. With some luck, one can walk away with awesome prizes after having a good time hanging out with new friends from across the country. The format of the guest appearance is flexible, they can turn on and off the video at any time as they wish and at the same time continue with the conversation through audio.
Audience can participate in the conversation too and get instant feedback from the panel. On the bottom of the screen is the comment section where viewers were busy sending their messages. Virtual gifts are flying across the screen, coins (Uplive's virtual currency) are added to each guest's account when they receive virtual gifts from the audience. They can, after the show, redeem the coins they received for cash. There were prizes for the lucky winners after the show - free movie tickets for the most voted guests.
Friday night's Avenger party turned out to be a lively discussion filled with laughter and candor. Join these events is simple - download the app and sign up for the events. Uplive is a live stream app, available for download at Google Play or the App Store. There are multiple ways to earn coins and coins can be cashed out. There are daily check-in rewards, free contests and shows that offer prizes ranging from cash, movie tickets, TV set, gift cards to free trips to Australia. Follow UpLive USA:
Website: http://upliveusa.com/
Instagram: https://www.instagram.com/uplive.usa/
Videos
https://youtu.be/WhKGYKMfuFo
https://youtu.be/7DMuCm_SYxo
https://youtu.be/PiqlzQmXDM0
https://youtu.be/s2979fkd3U4
https://youtu.be/N2qWaa1fTzw