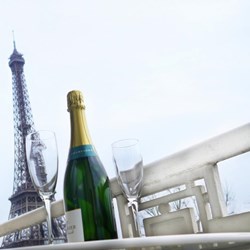 Check-in when your flight lands and check-out when you need to leave, not when it is convenient for others.
London, United Kingdom (PRWEB) November 15, 2013
How does an apartment stay compare to a hotel stay? Here is AvenueStory's top 10 reasons to rent an apartment on your next trip to London or Paris:
1. Check In – When you arrive, at your convenience, in your apartment (not from 3pm at a hotel or having to pick up keys at some office). Also, depending on availability, check-out at the time that you want to, i.e. not at 12 noon.
2. Unique experiences – Instead of standardised rooms, each Avenue Story apartment offers unique spaces, real homes away from home – be that a Mansion by the Louvre in Paris, or a chic townhouse in London's Chelsea.
3. Your own space – for the price of a standard four-star hotel room, you can have your own suite, with its living room and fully equipped kitchen.
4. Free Wifi and International Calls – All our apartments have wifi for guests and we also include a local mobile phone which will let guests contact AvenueStory's concierge team at all times and make any local arrangements using a local mobile phone. Landlines in our apartments also include international calls to the US, Canada and Europe.
5. Get picked up at the airport and dropped off at your own London or Paris doorstep – without the need to worry to print directions or carry your own luggage. This service is included on all premium apartments.
6. A bottle of wine and welcome hamper on arrival – so you can enjoy the view and begin your trip in style. No extortionate mini-bar charges and you can obviously stock up your own bar by visiting a local store.
7. Insurance – With the apartment industry being unregulated, AvenueStory offers its clients travel, cancellation and damage insurance, offering peace of mind in case anything goes wrong before or during your trip.
8. Daily cleaning and breakfast delivery can also be organised on request, providing the same convenience as a hotel. Cleaning times can be scheduled at our guests' convenience.
9. Dedicated Travel Concierge – included in the Avenue Story experience, whereby we will provide you with all the information you need to make your stay truly unique. No queueing at the concierge desk to ask for a map – our team organise any day trips and restaurant bookings and your itinerary will be ready and printed for you on arrival.
10. Your own key – feel like you really belong in the city you have chosen, giving you the opportunity to truly live like a local.
AvenueStory was founded by Irina Raileanu in 2011. The company has grown organically to almost 140 chic apartments between London and Paris and continues to expand its local operations at a rapid pace.
The company has exclusive use of some of London and Paris' most luxurious properties, some of them with incredible views of each city, with prices from $100 per person per night.
Would you like to stay at an apartment with incredible views of the Eiffel Tower? AvenueStory has one of its most popular apartments in this area, offering 2 bedrooms and 2 bathrooms for $500 per night, or the equivalent of $125 per person per night. With an average 3-star hotel room in Paris ranging at $200-300 per night, AvenueStory offers unbeatable value for money and luxurious accommodations.
The success of AvenueStory has been driven both by adapting to growing consumer needs but also by revolutionising the experience of short term stays. Starting with match making your desired criteria one by one with their portfolio making sure that you choose the right apartment for your trip, be it a holiday, an anniversary, a romantic city break or even a business trip. Finishing with your appointed concierge meticulously planning your arrival and your stay, not just handing over the keys.
Minimum stay is 3 nights and on average rates for apartments sleeping 4 or upwards are priced from $100.00 per person per night inclusive of all fees and taxes as well as guest benefits including a local cell phone, free wifi or international calls and you can check in early or check out late for free.
With online sites such as Airbnb.com, this method of travel is becoming more natural for the modern traveller, and much of the success behind AvenueStory is its ability to provide something more personal, indulgent and convenient than what customers can find in the market place currently.
A growing concern for vacation rental guests is strict cancellation policies in comparison with standard hotel reservations. AvenueStory has recently introduced a partnership with RentalGuardian offering its guests Travel Insurance options specific for vacation rentals and Rental Damage Protection offering peace of mind not only in terms of travelling but also, cancellation and deposit guarantees.