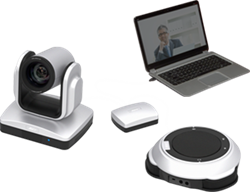 Set the benchmark for professional communications and collaboration with the AVer VC520.
Oak Creek, WI (PRWEB) August 12, 2015
Video Conferencing Supply, the premier source for unified communications and video collaboration solutions, is pleased to introduce the AVer VC520. The AVer VC520 is a game-changing video conferencing system, with USB connectivity for web-based applications such as Skype and WebEx, and a powerful camera and speakerphone supporting larger meeting spaces. The system is now available at Video Conferencing Supply.
The AVer VC520 is a full-scale video conferencing system offering plug-and-play connectivity. Similar systems require network access or firewall configuration. Connect the system to the USB port on a laptop or desktop computer and enjoy hassle-free, HD 1080p video conferencing.
Traditional USB webcams are only designed for huddle spaces or small offices. The AVer VC520 is built for meeting rooms with roughly six to eight individuals. The camera's 12x optical zoom feature and the speakerphone's 15-foot microphone radius reliably engage everyone in the meeting space.
All that is required to deploy the system is an existing Windows PC or Mac computer. Compatible web-based applications include Skype, Skype for Business, Cisco WebEx, Google Hangouts, WebRTC and GoToMeeting.
The AVer VC520 will drastically change any small- to medium-sized business' opinion about what a professional video conferencing system should be. No IT expenses or prior experience with networking are necessary. The system supports a range of standards, including H.264 and MPJEG, to ensure interoperability with third-party solutions.
Set the benchmark for professional communications and collaboration with the AVer VC520, perfect for small- to medium-sized businesses seeking an easy-to-use and high-quality video conferencing system. To learn more about AVer and the VC520, contact Video Conferencing Supply by phone or email, or visit: http://www.videoconferencingsupply.com.
About Video Conferencing Supply
Video Conferencing Supply's mission is to deliver affordable video conferencing solutions to businesses and organizations in every industry. From audio equipment and displays, to premise- and cloud-based conferencing systems, Video Conferencing Supply carries it all.