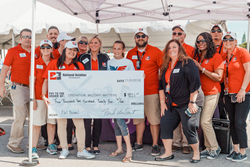 CLEARWATER, Fla. (PRWEB) November 09, 2018
National Aviation Academy (NAA) has been directing charitable dollars towards military-focused nonprofit Operation: Military Matters. Operation: Military Matters was started in November 2015, by a 9-year-old, fourth grader named Graci Tubbs. Moved by Veteran speakers at a school Veterans Day assembly, Graci set out on a mission to support military personnel by letting men and women serving overseas know that their sacrifices are appreciated.
What started out as a school project, collecting supplies from the community and sending care packages from home to the military overseas, soon grew into a nonprofit. Now in the seventh grade, Graci is the driving force behind the cause. She personally speaks to civic organizations, community partners and the public, driving increased awareness of how we at home can provide thoughtful and meaningful support to our military. The organization hosts packing parties to mail personalized care packages abroad, maintaining relationships with individuals serving across the globe. With a significant student and staff population who have served, and as proud supporters of the United States Military and Veterans, NAA is honored to partner with Operation: Military Matters.
Several months of fundraising at NAA culminated in a Food Truck Festival and Open House on Saturday, November 3, 2018 at their Tampa Bay campus located on the corner of US-19 and Ulmerton Road in Clearwater. The event itself was a blast, offering an opportunity to get to know our neighbors and community members, as well as provide resources from the Mobile Vet Center and Bay Pines VA Healthcare System. With 7 food trucks, a mobile gaming station, crafts and infinite opportunities to learn about aviation, it was a great event for an even greater cause.
 
For more information, visit https://www.naa.edu/funds-us-military-raised-aviation-open-house/ or http://www.operationmilitarymatters.com  to donate directly.