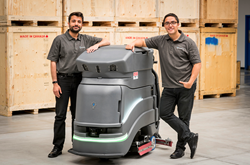 Avidbots has been growing at a tremendous pace, and we're excited to announce the financial support of world-class investors such as True Ventures, Next47, and GGV Capital.
KITCHENER, Ontario (PRWEB) March 21, 2019
Avidbots, a company that brings robots to everyday life to expand human potential, today announced it has raised $23.6 million in Series B funding led by returning investor True Ventures. Other returning investors include GGV Capital, SOSV, Real Ventures, and 500 Startups Canada. New investors include Next47, BDC Capital, and KCPL. To date, Avidbots has raised $36 million in venture capital financing.
Avidbots is a fast-growing company that designs and builds autonomous connected robots. Its first product is Neo, a robotic floor scrubber widely deployed in commercial locations around the world, including airports, warehouses, manufacturing sites, malls, and universities. Manufactured in Avidbots' 40,000-square foot facility in Kitchener, Ontario, Neo is in use today in over a dozen countries, cleaning floors in locations such as Paris Charles de Gaulle Airport, Toronto's Eaton Centre mall, and Rochester Institute of Technology. To date, Neo has cleaned over half a billion square feet of floor space.
"With strong worldwide demand for our Neo industrial cleaning robot, Avidbots has been growing at a tremendous pace, and we're excited to announce the financial support of world-class investors such as True Ventures, Next47, and GGV Capital as we enter into our next phase of expansion," said Faizan Sheikh, CEO and co-founder of Avidbots. "With this new funding, we will accelerate investment in talent acquisition, engineering, marketing, and sales to bring our cutting-edge robots to more customers worldwide."
Avidbots created Neo to solve a real-world problem: cleaning floors in large commercial spaces. Traditionally, a janitor must push a floor-scrubbing machine every night, taking hours to complete this tedious and back-breaking work. The job has high turnover, making it difficult for facilities to efficiently manage their cleaning operations. When Neo joins the maintenance crew, it frees up human coworkers to focus on higher-value tasks, such as cleaning bathrooms and common areas. Ground staff control Neo through an easy-to-use touch screen, while facilities managers can log into an intuitive web app called Command Center to access real-time and historical reporting and video streams—getting clear visibility into cleaning operations and outcomes.
"We invest in industrial automation and robotics companies that have thought deeply about which types of work are best suited for machines," said Rohit Sharma, Partner at True Ventures. "Repetitive, tedious work like commercial floor cleaning is an effective area of initial focus and we're thrilled to support Faizan and his team as they pioneer this space."
While most robotic floor-cleaning machines are simply existing manual models retrofitted with hardware and software that allows them to travel a few pre-programmed routes, Avidbots Neo is the first purpose-built commercial robotic floor scrubber that uses AI to optimize performance. Neo does not just follow a set path, but instead continually learns from its environment to change its route on the fly—avoiding obstacles and adapting to new floor layouts. Neo has a vertically-integrated technology stack that incorporates proprietary software and a unique hardware design, as well as the most advanced 3D sensors and cameras. Connected to the cloud through WiFi and 4G, Neo includes 24x7 monitoring and automatically receives regular software updates to continuously gain new functionality. Neo is the only floor-cleaning robot that gets smarter and more effective over time.
About Avidbots
Avidbots designs and manufactures autonomous connected robots to expand human potential. Its first product is Neo, a robotic floor scrubber widely deployed in airports, warehouses, manufacturing sites, malls, universities, and other commercial spaces worldwide. With a rapidly-expanding customer base in over a dozen countries, Avidbots is a global leader in collaborative service robots. Founded in 2014 by robotics engineers from the University of Waterloo and headquartered in Kitchener, Ontario, Avidbots is backed by top global venture capital firms including True Ventures, Next47, GGV Capital, BDC, Felicis Ventures, Real Ventures, and Golden Ventures. For more information, visit https://www.avidbots.com
About True Ventures
Founded in 2005, True Ventures is a Silicon Valley-based venture capital firm that invests in early-stage technology startups. With more than $2 billion under management, True provides seed and Series A funding to the most talented entrepreneurs in today's fastest growing markets. The firm maintains a strong community that supports founders and their teams, helping True companies achieve higher levels of success and impact. To date, True has helped more than 250 companies launch and scale their businesses, creating over 10,000 jobs worldwide. The firm was awarded 2018 Venture Firm of the Year by the National Venture Capital Association. To learn more, visit https://trueventures.com
Media Contact:
Kristi Essick
415-407-8714
kristi (at) archwaypr (dot) com