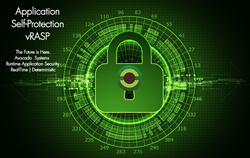 Applications in data center and cloud environments have become the target of choice for Advanced Persistent Threats (APTs) and other emerging cyber-attacks
San Jose, California (PRWEB) October 19, 2016
Avocado Systems, the Silicon Valley innovator of next-gen application security for data centers and clouds, introduced today its new approach to "deterministic" Runtime Application Self-Protection (RASP).
"Applications in data center and cloud environments have become the target of choice for Advanced Persistent Threats (APTs) and other emerging cyber-attacks," said Avocado Systems CEO and Co-founder Shailesh Naik. "Behind the perimeter firewall, the rapidly growing base of applications and their data are easy marks for cyber criminals. This makes current application security solutions the weakest link. The sheer magnitude of risk and breach statistics -- combined with the intense scrutiny and pressure organizations face today -- calls for a new and more solid approach."
Avocado Systems is introducing its next-gen RASP as a must-have game changer solution for both data center and cloud environments. Avocado's vRASP solution protects runtime applications deterministically from existing and emerging threats and eliminates the many false-positives created by current solutions.
To optimize IT costs, many customers are migrating their applications to public clouds. vRASP eases the transition in a non-disruptive manner, empowering customers to inventory applications in the data center, identify dependencies, then shift them smoothly into the cloud, retaining full control of application security, while enabling applications to self-protect.
During its beta phase, vRASP was successfully deployed at various customer sites and has continually received glowing reviews. Avocado Systems continues validation of its vRASP GA release through proof-of-concepts and initial deployments – currently underway with a formidable roster of Enterprise and U.S. Federal Government customers, cloud & data center operators, and a cadre of strategic partners.
Pioneering a new era of Silicon Valley innovation in application security, Avocado Systems has attracted initial support from Silicon Valley leaders, such as Oracle, VMware, Splunk, IBM and Docker, along with leading global integrators and cloud operators. Headquartered in the historic Bank of Italy Building in the heart of San Jose, Avocado Systems is angel-funded and led by a world-class team of highly accomplished business and engineering leaders from IBM, Symantec and Palo Alto Networks -- with more than 150 U.S. and international patents.
About Avocado Systems – Next-Gen Application Security for Data Center and Cloud Environments
Avocado Systems is championing an entirely new approach to Runtime Application Self-Protection (RASP). A needed paradigm shift inspired our next generation vRASP, leveraging a real-time, deterministic methodology to protect applications and data at the smallest attack surface, eliminating false-positives, and enabling application self-protection, further empowering organizations to focus on its business success. For more information, please visit: http://www.avocadosystems.net.
# # #