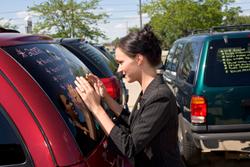 As America's favorite lending resource for car loans, Complete Auto Loans desires to help drivers not only get easily approved but also re-build their credit
Seattle, WA (PRWEB) April 07, 2014
Complete Auto Loans helps more car shoppers avoid buying a lemon by making them aware of the best inspection process they should follow for their next car purchase.
Drivers can get approved for a car loan here.
Auto loan expert Keith Eneix says, "The first part of your inspection should be to check the Vehicle Identification Number (VIN). It should be located on a place in the car window. That number should match the title that goes to the car. A mismatch could mean a stolen car. Look in the car for any suspicious odors or damage. These could be signs of flood, accident, or theft. If there is any hint of something not being right, do not purchase the car."
As America's favorite lending resource for car loans, Complete Auto Loans desires to help drivers not only get easily approved but also re-build their credit. Shoppers are encouraged to check their credit score after they've been approved so they can re-build credit and cut loan interest costs by thousands of dollars.
https://completeautoloans.com/application-form/
About Complete Auto Loans:
CAL provides auto loans and refinancing for people with good or bad credit history. Their unique finance platform can accept 100% of applicants, regardless of poor credit or even bankruptcy. By visiting completeautoloans.com, consumers are able to find the ideal loan for their personal financial situation, all through a quick and easy online process.