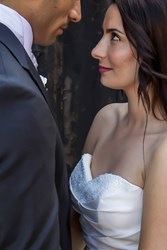 Couples spend an average of £1,102 on their wedding day photography
High Wycombe, Buckinghamshire (PRWEB UK) 14 November 2013
Sourcing an experienced, professional wedding photographer to capture your big day is a priority for most couples.
Exclusive Buckinghamshire wedding venue, The Pavilion at Lane End, shares five tips on how to pick the perfect wedding photographer.
According to Bride's magazine, couples spend an average of £1,102 on their wedding day photography.
A hefty slice of any bridal budget, how do you go about choosing a wedding photographer that will deliver?
The Pavilion wedding venue has over a decade's experience of hosting indoor and outdoor weddings.
To ensure couples have picture perfect photos the venue recently launched an all-inclusive Diamond wedding package incorporating professional photos by Heni Fourie Photography.
Here are their five key points to remember:
Ask your venue – Speak to your venue about which photographers they recommend.
Most venues have a list of preferred photographers, whilst some venues, such as The Pavilion, include photography services from a trusted photographer in their wedding packages.
Research online – Don't pick the first local wedding photographer that appears in your online search.
If you have decided on your venue, enter the location's name and 'wedding photos' into the search box. This should direct you to a photographer's website or blog featuring real weddings at your chosen location.
As well as an easy way to compare photographer's styles – and pick the one you like - this will give you an idea of the most picturesque spots for your images.
Seek personal recommendations – If you want an honest opinion ask friends and family for their recommendations. People only tend to endorse a wedding photographer if they are genuinely happy with the results.
Book an engagement shoot – Lots of photographers include engagement shoots as part of their wedding photography package.
As well as creating more happy mementos of your time together, an engagement shoot is a good opportunity to get to know the photographer, see how they work and, most importantly, decide if you are happy with the quality of photos.
Where possible, pay for the engagement shoot up front and ask for it to be credited against the wedding photography package if you decide to go ahead.
This is a tried and tested method of The Pavilion's recommended photographer, Buckinghamshire wedding photographer, Heni Fourie.
"I regularly offer couples reduced prices for engagement shoots and offer to credit it against any wedding package," said Heni.
"This year two brides booked my photography services on that basis. Also engagement shoots are a great way to build rapport and get to know the couple in a relaxed environment before the big day."
If you are looking for a wedding photographer in High Wycombe take a look at Heni's portfolio here: http://www.henifouriephotography.co.uk
Be media savvy – Once you have a shortlist of photographers follow them on social network sites Twitter and Facebook.
This will give a feel for how in demand they are, the type of photos they take and how they interact with previous and potential clients.
It's also a good way to find out about any offers they run.
The Pavilion at Lane End is set in beautiful countryside surroundings overlooking the Chiltern Hills.
It is one of only two wedding venues in Buckinghamshire licensed for al fresco weddings.
Couples have a choice of ceremony locations, including a romantic gazebo and grand Pavilion room, graced with floor-to-ceiling windows and garden terrace.
To find out more about The Pavilion's all-inclusive wedding package and professional wedding photography, please contact Heni Fourie on telephone 07809 395 062 or visit http://www.thepavilionuk.com.
-Ends-
Notes for Editors:
Source: Brides magazine, Let's Talk Money – 7 January 2013. http://www.bridesmagazine.co.uk/planning/general/planning-service/2013/01/average-cost-of-wedding.
Image request and media contact: For a high-resolution image to accompany this press release or any other media call 07809 395 062.
About The Pavilion: The Pavilion at Lane End has hosted weddings since 2003. Set in 26-acres of rolling Chilterns countryside in Buckinghamshire, The Pavilion is 30 miles from London and licensed to host indoor and outdoor wedding ceremonies.
The Pavilion is one of five buildings at Lane End Conference Centre with access to 104 bedrooms, four lounge and bar areas, four dining rooms, a games room with a lounge and bar, plus a wide range of fitness and leisure facilities.