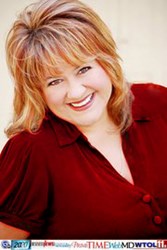 Avoid 'Business Infidelity" by connecting to clients at a deeper level which prevents them from straying to check out the competition. ~Andrea Adams-Miller, CEO, Corporate Relationship Consultant & Speaker
Findlay, OH (PRWEB) September 11, 2013
Corporate Relationship Consultant and Keynote Speaker Andrea Adams-Miller shares that having any customer figuratively divorce your business is frustrating enough. However, finding out that the so-called loyal client is cheating on the company with the new business down the street is even more disturbing. Fortunately, maintaining a healthy relationship with current clientele relies more on positive partnerships than fancy marketing gimmicks and pricey technologies that the competition flaunts.
Andrea Adams-Miller, MS, CHES, an Ohio based international corporate relationship consultant  shares that the number one reason for losing clients to 'business infidelity' stems mostly from lack of client connection, not lack in services or technology. Utilizing the strategies and philosophies of interpersonal relationships successes, Adams-Miller gets to the heart of the matter when it comes to putting the sizzle in your business relationships.
"The Leading International Authority in Healthy Relationships" is a keynote speaker and corporate trainer who specializes in showing corporations and entrepreneurs how to increase customer loyalty. She reveals the top two tips to deepen corporate/consumer relationships to increase longevity of the partnership, boost referrals, and increase product usage using the philosophies of traditional interpersonal relationships.

Reach out and touch someone.
"With a world so full of technology, there is no reason not to reach out and touch your clients through some means of communication," suggests Adams-Miller. "Just as in interpersonal relationships, most people crave attention and feedback through any means. However, technology sometimes overrides common sense which contradicts human desires to connect at a deep intimate level. Instead of texting or emailing your client, send a personal note, or arrange a short chat just to check in with them. That sense of connection deepens the relationship as the client 'feels' cared for within the business relationship."
While engaging clients in conversation virtually or physically to strengthen the ties between the client and the company may seem silly at first glance, research studies reveal that consumers desire the connection to their service provider because it makes them feel safe, valued, and respected. Each time the salesperson increases the association, the consumer reacts by reinvesting, reaching out to tell someone else what the company did for them, and revitalizing their loyalty to the company's brand.
Furthermore, corporate relationship trainer Adams-Miller shares that when the client feels as if they can trust the sales team and the company, and when feel that the staff appreciates them, then, they feel validated in their decision-making process. Hence, they are more likely to reinvest with the same products or services or potentially upgrade to invest in additional products or in a higher value service or product than what they currently invest.
Who does not appreciate a genuine, sincere extension beyond the services or products ordered that betters their personal or professional life? Therefore, when mapping out the client's sales packages, whether or not they include products, services, or a combination of both, take into account the cost of additional bonuses increase the relationship and that they should be gifted after the initial transaction.
Clients do not stray when they know that periodically they will receive benefits above and beyond what they initially invested. These bonuses are equally appreciated when they are inexpensive simple gifts or even extensions of gratitude. No need to buy them a new car like Oprah did over the years on her television program. Instead, the business stands to gain just as much loyalty by sending them a new mouse pad, travel handle covers, or a new fishing lure to remind them that the salesperson or the company remembers them and appreciates them. 
"When the salesperson invests in the client's future goals and dreams, even inexpensively, the clients invest in the business," shares Andrea. "Clients are often thrilled with simple, inexpensive tools, products, software, or access to teleseminars/webinars that free their time or increase the profitability of their product or services. Just make sure that the learning mode is content driven and not sales driven, and they will love what the team and the company offers!"
In following these top two tips to establish longevity with the current clientele, the sales team members are likely to reap the rewards of abundant referrals, in addition to the increased use of products and long term repeat business. Simply put, reestablishing the basics of Relationship Building 101 with the assistance of a corporate relationship consultant such as Andrea Adams-Miller can lead to the most lucrative business successes imagined.
About Andrea Adams-Miller, MS, CHES:
For over 18 years, Andrea Adams-Miller, deemed in the media as "The Leading International Authority of Healthy Relationships" has applied the philosophies of her interpersonal relationship consulting successes to the corporate business world. Training and Keynote topics include Conflict Resolution, Putting the Sizzle in Business Relationships, and Engagement, Retention, and Growth. Corporate employees from the executive staff to the general workers enjoy Andrea's candor, honesty, and simple strategies that can be implemented immediately to improve relationships with consumers and relationships between departments.
Adams-Miller was most recently noted for her collaboration with other business associates on employee retention, engagement, and growth. Therefore, Andrea has written chapters in several books regarding business relationships. One of those books included the invitation to partner with New York Times Best-Selling Author Brian Tracy, highly sought after business consultant and trainer.
This now 5x best-selling book, "Nothing But Net: The World's Leading Speakers, Trainers, and Entrepreneurs Reveal Their Top Secrets to Increase your Bottom Line in Health, Wealth, and Success" features Adams-Miller's chapter "Putting the Sizzle in your Business Relationships."Recieve a free copy of Adams-Miller's chapter at http://www.IgniteYourRelationships.com
To inquire more on how to bring Andrea Adams-Miller to your office for a keynote presentation, consultation, or training, or to interview Andrea for the media; contact http://www.IgniteYourRelationships.com directly at 419-722-6931 or TheREDCarpetConnection.com Publishing, Publicity, and Talent Agency at info(at)theREDCarpetConnection.com