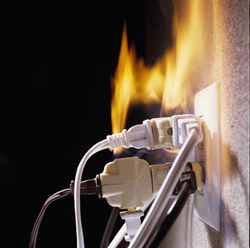 Knowing how to identify hidden fire hazards is the next step to keeping your family safe.
Memphis, Tennessee (PRWEB) November 02, 2013
Home fires are no laughing matter, and they impact thousands of families each year. Many of the causes of home fires can be remedied if they're identified, but unfortunately, many homeowners don't know how to look for hidden fire hazards. The team of professionals at SecuritySystemReviews.com, a site that provides reviews of the top security systems and companies, including FrontPoint Security reviews and Vivint reviews, has released a list of tips to help homeowners identify hidden hazards.
1. Wiring problems account for about 50,000 fires a year—a huge number. Many people don't even think about the quality of the wiring in their home, because it's hidden behind walls, but it's an important factor in the prevention of fires. Even something as simple as hanging a picture on a wall can damage wiring. Professionals recommend replacing circuit breakers with arc-fault circuit interrupters, which can stop dangerous electrical fires from occurring.
2. A cluttered kitchen isn't just a matter of inconvenience—it's also a fire hazard. Everything from cookbooks to paper towels can increase the chances of a fire starting when cooking is going on. To reduce the fire hazards in a home, clear the clutter from kitchen counters.
3. It's not just enough to clean the lint filter of a dryer—lint can also accumulate within the cabinet of the dryer, which can lead to the risk of a fire being ignited. It's a good rule of thumb to have a professional to clean the cabinet every year or two, to avoid this risk.
4. Those loose electrical outlets are not only unsightly—they're also dangerous. Electrical outlets naturally loosen with use, over time, but when something is plugged into one of these outlets there's a lot of heat created, which can lead to a fire. It's important to replace outlets that don't allow for a secure fit with appliance plugs.
5. Old appliances may seem fun and have a vintage feel, but they can be dangerous. Whether you've inherited an old appliance, or found a treasure at a yard sale, they may have damaged or outdated wiring that can spell disaster in terms of the risk of a home fire. For people who are really attached to old appliances, it may be worth having them rewired—otherwise, it's best to stick with modern appliances.
About SecuritySystemReviews.com
Throughout the country, whether consumers are searching for information about Iowa security systems all the way to Rhode Island security systems, SecuritySystemReviews.com is known as the go-to resource. The site provides unbiased, independent reviews of the top companies and equipment, as well as valuable coupons and discount codes that can be used toward the purchase of a home security system.