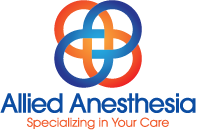 We love taking care of children and we want your kids to stay safe and secure.
Orange, Calif (PRWEB) December 03, 2013
Pediatric emergency room visits typically spike during the holidays when children are exposed to unfamiliar hazards and parents are distracted.
The good news is most of these trips are preventable with a bit more education and vigilance.
The physicians at Allied Anesthesia know first-hand the hazards of holiday mishaps. They have been providing pediatric anesthesia and pain management medical care at leading Southern California hospitals for 50 years.
"We love taking care of children and we want your kids to stay safe and secure," said Dr. Paul Yost, an Allied anesthesiologist and director of cardiac services at St. Joseph Hospital of Orange. "The following tips can help parents keep the holidays happy and healthy."
Fire: Most residential fires occur during the winter months. Place Christmas trees in water and position them away from fireplaces and radiators. Never leave candles unattended. Place them away from decorations and drapes. Make sure they are out of reach of children and pets. Check tree lights for frayed wires, broken bulbs and loose connections. Throw away damaged sets.
Shopping: Every year, some 27,000 children are treated for injuries related to shopping carts and escalators, according to the Consumer Product Safety Commission. Always use the safety belt for small children riding in a shopping cart and make sure they remain seated. When riding on an escalator, shoelaces should be tied and scarves and mittens tucked safely into pockets. Hold your child's hand and face forward with toes away from the edge of the step.
Choking: Choking on small toys, magnets, toy parts and latex balloons is among the leading cause of toy-related deaths and injuries among children. Check the suggested age range on toy packages. If a toy fits inside a toilet paper tube or is smaller than a child's fist, it is too small especially for children 3 and under.
Decorations: Keep small light bulbs and ornaments out of children's reach. Avoid sharp and breakable decorations and those that look like candy or food. Spun-glass "angel hair" and "bubble lights" can be harmful if swallowed.
Riding toys: Scooters, skateboards and skates can be very dangerous especially for children who are not used to riding them. Non-motorized scooters were associated with the most toy-related emergency room visits for children 15 and under in 2011, according to Safe Kids USA. If you purchase a riding toy for your child, make sure to also buy safety gear such as helmets and knee pads that are sized to fit.
Christmas trees and other plants: Young children should be supervised around the Christmas tree to avoid eye injuries, which can be very serious. Keep mistletoe, holly berries and Christmas cactus away from children. They are poisonous if swallowed. Poinsettias can make children and pets very ill.
About Allied Anesthesia: With more than 50 highly qualified anesthesiologists on staff, Allied Anesthesia provides adult and pediatric anesthesia services to St. Joseph Hospital of Orange, CHOC Children's Hospital and many other Southern California healthcare facilities.
Allied specializes in pediatric anesthesia, performing approximately 12,000 pediatric anesthetic procedures a year. All of the group's anesthesiologists have extensive experience in the care of pediatric patients. All Allied anesthesiologists are board certified, and they staff and manage the most efficient operating rooms in Southern California. Allied is a member of the California Society of Anesthesiologists and the American Society of Anesthesiologists. For more information, visit http://www.alliedanesthesia.com.