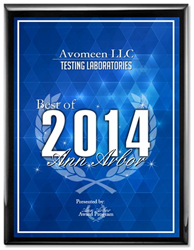 You can find out more about this award winning company by visiting their website www.avomeen.com.
(PRWEB) May 19, 2014
Avomeen Analytical Services has been awarded the 2014 Best of Ann Arbor Award for Best Testing Laboratory.
Every year local companies are identified by the Ann Arbor Award Program that exhibit exceptional success in their business category. These local companies provide great customer service and possess a positive image which enhances our community. In total, these are the companies which make Ann Arbor one of the best cities in the U.S. to work, live, and learn.
Nominations for these awards are gathered throughout the year and winners are chosen based on the quality of their business and other factors as determined by the internal Ann Arbor Awards Program and third party resources.
About Avomeen Analytical Services:
Avomeen Analytical Services is an independent testing laboratory which specializes in complex analytical testing and formulation development. They are substantial contributors to pharmaceutical and coatings industries and other consumer product industries. Their 25,000 square foot laboratory is located off State Street in Ann Arbor and boasts state-of-the-art instrumentation and segregated laboratories for product formulation, analytical testing, and clinical trial manufacturing. Whatever the industry or need, Avomeen's scientists provide custom method development, method validation and testing services to solve even the most complex problems. You can find out more about this award winning company by visiting their website http://www.avomeen.com.
About the Ann Arbor Award Program:
The Ann Arbor Award Program is conducted annual to honor the achievements of Ann Arbor local business. The companies showing their aptitude in best practices and competitive advantage receive recognition for their accomplishment.
The program was established to recognize our community's best local business. The organization's mission is to recognize the accomplishments of small businesses and their contribution to the U.S. economy.